Another Unarmed Teen Was Killed by Police. Where Are the Protests?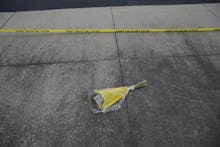 A teenager sat in the driver's seat of a Honda Civic in a Seneca, South Carolina, Hardees parking lot. There, 19-year-old Zachary Hammond waited in the car with a Tori Dianna Morton, 23, who allegedly had a transaction regarding the sale of marijuana scheduled on July 26.
The sale was actually a police sting. Once that fact was revealed, Hammond, who was reportedly unarmed, was fatally shot within moments. While this scene has been known to play out in media when the victim of such shootings has been black, Hammond's parents want to know why no one is rallying in the streets for their son, who is white. 
Seneca Police Chief John Covington told reporters that the officer who shot Hammond acted in self-defense as the teen allegedly "drove his vehicle directly at" a uniformed officer accompanying the undercover officer making the sale. However, according to the Greenville News, the shots came through the open driver-side window. 
Angie Hammond, Zachary's mother, said his family is unhappy with the results of the police investigation and will be launching their own investigation. She sounds reminiscent of so many other mothers who have had to grieve and remain strong while mourning a child's death at the hands of police. 
"We are obviously grieving the loss of our son," she told the Greenville News. "This is a most difficult time and the facts as we have been told and (were) reported are in conflict. We are conducting our own investigation as to the circumstances of this tragic and unnecessary death."
It's causing the family's attorney, Eric Bland, to demand national outrage as there has been for black victims like Michael Brown or Freddie Gray.  "The issue should never be what is the color of the victim," he told the Washington Post. "The issue should be: Why was an unarmed teen gunned down in a situation where deadly force was not even justified?"
Since the rate of police killings is not centrally reported or tracked, it is difficult to know exactly how many people in the United States are killed by police fire, what their race is and the motivation for which they were killed. Some news outlets have a tally, including the Post's ongoing investigation showing 581 people killed by police this year, as of Friday evening. 
According to the Post's tally, a quarter of those killed by police are black. However, black people make up 13% of the national population. A Mother Jones evaluation of police killings in multiple areas show black people are more likely than those of other races to be killed by police regardless of whether they live in low-income areas or affluent black suburbs. 
The prominent cases of police brutality that have made headlines and generated hashtags have black Americans on high alert. But the call for #BlackLivesMatter — the effort to shed light on the disproportionate killings of black people by law enforcement — is often met by resistance for some who don't understand the movement is to remind others that black lives matter, too; that black lives should matter equally. And those people question why the hashtag isn't #AllLivesMatter — as many have pointed out, that motto isn't an all-inclusive reminder to elevate everyone's lives. It's a slight that negates any recognition of the realities of being black in the U.S., where deep-seated racism has only been slowly untangled.  
As the Huffington Post's Nick Wing observes, Hammond's family should look at their local community first — 90% white Oconee County, South Carolina — for outrage, vigils and questioning the motivations of the officer who shot their son. However, they might have an uphill battle in generating outrage. This figure is adjusting, but historically, white people have trusted police officers to uphold the law and treat them fairly, "suggesting that they're either more willing to believe that officers are justified in their actions, or that the system can be trusted to sort it out if they're not," Wing writes. 
Yet as Hammond's family ask for community to rally, where are those #AllLivesMatter boasts? Seemingly silent.