It's Not "Living in Your Parents' Basement." It's a "Buffer Year" — And It's Important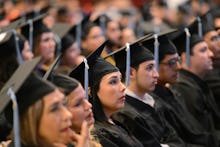 What if graduating from college didn't have to be a sweat-inducing, ominous, fearful exercise in feeling inadequate?
What if you could take some time between graduation and new employee orientation to take a breather and figure out what you actually want to do with your life?
Welcome to the Buffer Year.
A buffer year is exactly what it sounds like: a short period of time between graduation and officially entering the workforce. Some might refer to it as a "gap year" or just a "break." No matter what you call it, the idea that we should be wary of rushing into major life commitments immediately after college is a worthwhile one.
Taking 12 carefree months off after college is a known favorite activity of rich kids, as the firsthand accounts of uber-privileged graduates taking time off to travel after college prove. But if you don't find yourself in such a #blessed position after graduation, delaying major life decisions for a year can still be feasible — and even smart.
"I took a job at college," Samantha*, 26, told Mic of her decision to stay on campus after she graduated. She explained that the administrative gig was a way to maintain her collegiate social life while still supporting herself on her own. "I still had friends there. I wasn't ready to move to NYC and enter the rat race."
The joys of delaying entry into adulthood: It's fairly common for recent college graduates to take jobs they're overqualified for, or even delay entering the workforce entirely, immediately after graduation. According to a survey conducted by CareerBuilder last year, 51% of employed 2014 college graduates were working in jobs that didn't actually require a college degree — and 31% weren't working at all. 
These statistics depict a reality largely due to issues beyond our control, such as a poor economy and an over-saturated job market for millennials. But that doesn't mean taking a barista gig at Starbucks and moving back home with your parents has to suck. In fact, taking a buffer year can be exactly what a recent graduate needs to decompress after four years in academia. 
"I majored in music education, but wasn't able to line up a teaching job for the fall," Alex*, 26, told Mic of his post-graduation experience of a few years ago. "But it turned out that being a part-time waiter during that first year before really getting serious about my teaching career was awesome. I lived at home, I had fewer responsibilities than I do now that I'm working in a school. I miss it."
Why it's cool to move back in with your parents: Like 30% of millennials, according to 2014 data from the U.S. Census Bureau, Alex found himself in the position of moving back home immediately after college. Earlier this year, USA Today spotlighted the stories of some of these 20-somethings, finding that despite the stereotype that moving back home with your parents is something only unsuccessful slackers do, most millennials actually are kinda OK with it.
"It's in your financial best interests to live at home," one 20-something told the newspaper. "Recognize that your parents are there to be a support system to help you get where you need to be in your career," another said.
While not everyone has parents with the space (and willingness) to take them in, those who do might want to consider taking them up on the offer without shame.
The decisions we make immediately after college carry weight: Succumbing to the pressure to quickly launch into "adulthood" can have some serious repercussions, especially when you consider the possibility that you might change your mind about your career choice when you get older. As one writer lamented in the Guardian in 2013, "Who I am now isn't who I might be in the future, and the education and recruitment system needs to give us the space and time to make the right career choices." 
That's why people who go to grad school immediately after leaving college may be at the risk of losing even more money down the road. When you consider that the average amount of student debt for an undergraduate degree alone is at over $35,000, the combined total of post-graduate debt can be crushing.
Robert*, 27, told Mic that he followed up his undergrad experience by immediately incurring six figures of student loan debt. "I wasn't ready to enter the job market," he said. "But I also felt like taking a year off entirely and staying at the part-time college job I held back then would have been tantamount to 'failing.' Which I now realize was misguided."
Taking it slow. Whether or not a buffer year is realistic or necessary is of course something that will vary according to your personal and financial circumstances. After all, taking a buffer year to travel or bartend or even just do nothing is infinitely more feasible for the economically privileged among us. Still, something that even the most confident recent graduates could stand to do is take a chill pill and remove post-college pressure from the equation.
While this might be difficult for a generation that was raised on ideals of "doing what you love" and achieving great success, taking some time for ourselves after graduating might pay off in the long run. There's nothing wrong with needing a little time to buffer while you figure adulthood out.
*Some names have been changed to allow subjects to speak freely on private matters.