This Tweet Unintentionally Reveals the Sexist Truths Behind Mayweather's Ronda Rousey Diss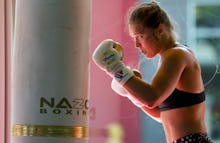 Prizefighter Floyd Mayweather recently responded to fellow fighter Ronda Rousey, who called Mayweather out for his history of domestic abuse after she received the ESPY Fighter of the Year award in July.
Mayweather said that Rousey, an undefeated mixed martial arts fighter who recently scored a 34-second KO victory against Brazilian fighter Bethe Correia in Rio de Janeiro, wasn't all that impressive, and reiterated his claim that he hadn't even heard her name until recently.
"I've yet to see any MMA fighter, or other boxer, make over $300 million in 36 minutes," Mayweather told SportsCenter on Thursday, according to MMAFighting.com. "When she can do that, then call me."
"A while back I didn't know who Ronda Rousey was, so I'm pretty sure she got upset. I want to say congratulations to Ronda Rousey and the UFC," he added. "You guys have done a tremendous job and I've won probably six or seven ESPYS for Fighter of the Year. And I truly believe she deserves it. Congratulations to Ronda Rousey."
As one Twitter user noted, Mayweather made hundreds of times more money for his last high-profile fight (a unanimous decision win against Manny Pacquiao in May) than Rousey did hers:
Of course, the fact that Rousey is doing incredibly well in a traditionally male-dominated industry is not mentioned.
While Mayweather indeed generates unbelievable amounts of publicity and revenue, Forbes estimates that Rousey has taken in enough pay-per-view revenue to more than match the much higher show-up-and-win money the UFC pays out to its male fighters. According to Forbes, the Rousey-Correia fight likely netted Rousey somewhere around $4-5 million in pay-per-view revenue alone — and she finished her bout in just 34 seconds, likely earning $120,000.
But, coming from Mayweather in particular, this is a low blow. He may make tons of money, but his dismissive attitude towards one of the best female fighters on the planet (and by extension, lower-paid female athletes in general) looks especially bad given his well-documented history of abusive misogyny. He is able to make that much money in part because Las Vegas authorities and the boxing industry have shielded him from the consequences of those allegations for years.
So when Mayweather insults Rousey by mocking her paycheck, it isn't just a diss. It's a misogynistic taunt.
In 2014, Mayweather defended himself against accusations of serial domestic abuse by telling CNN's Rachel Nichols "everything has been allegations" and "only God can judge me." Today, Mayweather is still telling women their lives don't matter all that much to him.
Thankfully, Rousey is more than capable of standing on her own merits.
"She's not a dude trapped in a woman's body. She's one of the world's best athletes, period, and she puts nearly every 'dude' fighter on the UFC's roster to shame with her athleticism," writes Bleacher Report's Jeremy Botter, asking people to cool it with the Rousey-Mayweather comparisons. "And it's such a damn shame that we are constantly seeking to compare her to Mayweather rather than accept the fact that she's just head and tails above her competition."