Protesters Shut Down Bernie Sanders in Seattle — But That Didn't Stop Him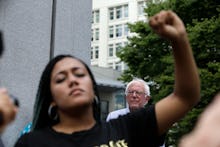 Democratic presidential candidate Bernie Sanders was forced off the stage in Seattle just hours before giving a speech to an arena packed with 15,000 people.
The Washington Post reports the Vermont senator was compelled to cancel his appearance at the first event, a celebration of Social Security and Medicare, after #BlackLivesMatter protesters stormed the stage.
The protesters took over the microphone and demanded the crowd help hold Sanders "accountable for his actions," according to NPR. "I was going to tell Bernie how racist this city is, filled with its progressives, but you already did it for me. Thank you," one added.
But speaking at the Washington Huskies' Hec Edmundson Pavilion later in the day, Sanders was greeted with a cheering crowd filling the venue from one side to the other. According to Seattle Post-Intelligencer, it was the biggest crowd to meet a political candidate since Obama in 2010.
"Too many young lives are being destroyed by the so-called 'War on Drugs,'" Sanders told the crowd. "Too many lives are being destroyed by our system of incarceration ... No president will fight harder to end the stain of racism and reform our criminal justice system. Period."
"Today, we have a horrendous tragedy in terms of youth unemployment in America," he added to cheers from the crowd. "Too many lives have been destroyed by the war on drugs, by incarceration. We need to educate people. We need to put people back to work."
"I am disappointed that two people disrupted a rally attended by thousands at which I was invited to speak about fighting to protect Social Security and Medicare," Sanders said in a statement released to local NBC affiliate KING 5. "I was especially disappointed because on criminal justice reform and the need to fight racism, there is no other candidate for president who will fight harder than me."