Miley Cyrus Just Slammed Taylor Swift and the Music Industry's Hypocrisy in One Fell Swoop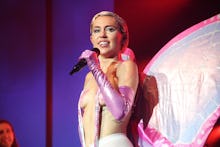 Miley Cyrus is calling out what she sees as the hypocrisy of glorifying violence while policing women's bodies.
During an interview with Marie Claire, the 22-year-old singer weighed in on fellow superstar Taylor Swift's "Bad Blood" video, claiming it promoted violence.
"I don't get the violence revenge thing. That's supposed to be a good example? And I'm a bad role model because I'm running around with my titties out? I'm not sure how titties are worse than guns," Cyrus told the magazine.
"Bad Blood" features Swift and her crew reimagined as trained assassins and is widely rumored to be about the singer's semi-public feud with Katy Perry. The Huffington Post described it as full of "invisible cars, explosions and squad goals."
Swift also got into a minor Twitter fight with rapper Nicki Minaj over the video after Swift apparently mis-interpreted one of Minaj's tweet as an affront.
Cyrus also found the time to discuss her evolving views on gender during the interview.
"A lot of us are born into some shit, you know what I mean? Lately, I've been talking a lot about my being gender-fluid and gender-neutral. And some people snarl at that. They want to judge me," she said. "People need more conventional role models, I guess. But I just don't care to be that person."
h/t Marie Claire/BuzzFeed