The Most Revealing Moments From Mic's Interview With President Obama on Iran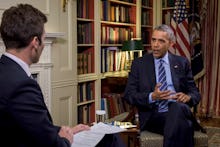 During a Democratic presidential primary debate in 2007, then-Sen. Barack Obama declared that he would engage diplomatically with enemies of the United States, a stance that was strongly criticized by his rivals at the time. Two years later, as president, he reiterated his strategy during a historic speech to the Muslim world in Cairo.
"Rather than remain trapped in the past," Obama said in 2009, "I have made it clear to Iran's leaders and people that my country is prepared to move forward."
Now, the president believes he is close to making that vision a reality. The nuclear deal with Iran that was announced in July is the result of two years of intense negotiations between Iran and an international coalition led by the U.S. The agreement requires Iran to give up key parts of its nuclear program in exchange for relief from sanctions. Obama views the deal as one of his crowning foreign policy achievements, and the only way to keep the U.S. from getting dragged into another Middle East war.
But the deal still has to make it through Congress, and serious doubts remain about whether it will actually work.
Last week, Mic asked readers what they wanted to know about the Iran deal. Young people from around the world submitted video questions on a wide range of issues related to the deal: how inspections of Iran's program will work, how the deal affects Israel, what the deal means for U.S.-Iran relations and much more.
I posed some of those questions from people in Iran, Israel and the U.S. straight to the president. (Yes, he knows how to use an iPad.)
Our interview took place on the same day as the first Republican presidential primary debate and one day after Obama's speech at American University, where he laid out his argument for the Iran deal. In that speech, he struck a defiant tone, saying that no other peaceful alternative exists to keep Iran from developing a nuclear weapon.
In our wide-ranging conversation, Obama hit on the same theme. He seemed confident. He acknowledged critics' concerns about the deal, but dismissed much of the opposition from Republicans in Congress as partisan posturing. He said he welcomes discussion, stressing that he considers the Iran deal to be the most important foreign policy debate since the Iraq War. Still, he came off as a man who is laser focused and certain he's on the right side of history.
Here's a breakdown of what we discussed:
Why he believes the deal is so important
The effect of the deal on the broader Middle East
Criticism from Republicans and Democrats alike
Our conversation lasted 21 minutes, and I was struck by Obama's extreme confidence in the face of great risk. He deftly broke down each counterargument and used professorial logic to dismiss his critics. This was Obama the president, but also Obama the law professor.
Before leaving the room, Obama told me he enjoyed our conversation. He seemed to be having fun. He listened to tough questions from young people around the world and replied just as seriously as he would when getting pressed by any journalist or member of Congress. 
The big question, as Obama spends the next two weeks vacationing on Martha's Vineyard, is whether young people will be motivated to speak out as a result.
You can watch the rest of our interview here, and a full transcript here.