Shots Fired in Ferguson on Anniversary of Michael Brown Killing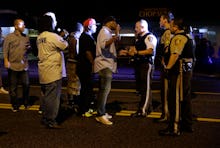 Peaceful protests marking the first anniversary of the killing of Michael Brown, an unarmed black teen fatally shot by a white police officer last summer, turned chaotic early Monday as multiple gunshots shook Ferguson, Missouri, leaving two people wounded in separate incidents, according to Reuters. 
A man is in critical condition after exchanging fire with plainclothes officers, St. Louis County Police Chief Jon Belmar told reporters, according to NBC News. He was later identified as 18-year old Tyrone Harris Jr. Harris' father said the teenager had been close to Michael Brown, the St. Louis Post Dispatch reported.  
According to Belmar, Ferguson police had been tracking Harris all day, suspecting he was armed. The man reportedly approached multiple officers in a police van before opening fire. An officer from inside the van promptly returned fire before later chasing Harris on foot, the Associated Press reported. 
In a press advisory released earlier and on Twitter, where it posted images of unmarked cruisers pockmarked by gunshots, St. Louis County police said there had been an "officer-involved shooting after officers came under heavy gunfire." 
Law enforcement sources told CNN no officers had been injured.
KSDK, a local news affiliate, reported that one person was taken to the hospital after the first confirmed incident. 
A reporter for CNN tweeted this video, which appears to show a burst of gunfire in the background as she spoke with Ferguson interim police chief Andre Anderson:
This clip is believed to show a man in handcuffs, possibly wounded or injured.
The person recording the scene was, according to this Twitter account, briefly detained before being released.
This is a developing story and will be updated as more information becomes available.
Update: 3:02 a.m. EDT
Police have launched "smoke and/or gas grenades" during a confrontation with crowds, according to the Guardian's Jon Swaine.