Women Are Responding to Donald Trump's Sexist Period Comments With #PeriodsAreNotAnInsult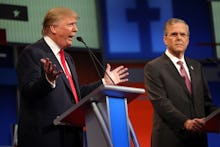 Real estate mogul and GOP presidential front-runner Donald Trump's recent comments about Fox News debate moderator Megyn Kelly have women tweeting the White House hopeful not about his politics or business ventures, but about women's periods. 
Using the hashtag #PeriodsAreNotAnInsult, social media users are taking a stand against the billionaire investor after he implied that during Thursday night's first GOP debate, Kelly took him to task for his history of insulting women's appearances because she was menstruating. 
Trump argued on Friday that he was treated unfairly by Kelly, who grilled the presidential candidate about his history of calling women "'fat pigs,' 'dogs,' 'slobs' and 'disgusting animals.'" In an interview Friday with CNN's Don Lemon, Trump came out swinging, saying he didn't respect Kelly as a journalist. 
"[Kelly] gets out and she starts asking me all sorts of ridiculous questions," he told Lemon. "You could see there was blood coming out of her eyes. Blood coming out of her wherever."
The sexist remark has sparked backlash online. On Saturday, Femsplain founder Amber Gordon started a website, periodsarenotaninsult.com, which allows Twitter users to easily tweet at Trump that they're either on their period "right now," "getting my period soon" or "I don't get a period but I also don't use that as an insult."
Among Trump's critics was former CEO of Hewlett-Packard and fellow Republican White House contender Carly Fiorina, who said in an interview with CNN's Jake Tapper on Sunday that the comments were "completely inappropriate and offensive."
"Women understood that comment," she told Tapper. "And yes, it is offensive."
Trump hasn't apologized for the remark, and even defended the comment over the weekend. He took to Twitter to argue the country has become too "politically correct" and to imply that what he meant by his "blood" comment was that the host was bleeding from her nose.