Lana Del Rey Just Released the Perfect Single for the End of Summer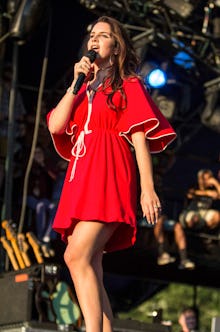 Lana Del Rey isn't traditionally known as the kind of pop star to reach for the big, summery pop hit. Her latest single, "High by the Beach," is about as close as she may ever get. 
Leaked ahead of its official release date, which was supposed to be Monday, according to the singer's Twitter, the song features the singer layering her distinctive airy vocals over trap beats and electronic synths. "All I wanna do is get high by the beach," she croons over and over in the song's chorus. Her mantra will get stuck in your head and provide the perfect soundtrack for you to savor the last few fleeting moments of summer.
All we want. The instrumental on "High by the Beach" is one of the most contemporary Del Rey has attempted to sing over. It would be right at home on any hip-hop radio station with a ballad auto-tuned over it. Yet Del Rey's vocals still have that breathy, film noir quality, which keeps the song firmly in the indie realm. In some strange, long-shot way it works.
Twitter has been showering love on the song all morning.
The song is the second single Del Rey has released off of her forthcoming album Honeymoon, which is dropping in September. She has yet to narrow down the mystery to a specific day, but she doesn't need to. The songs she has released should help us relish the last few bursts of summer romance, and the rest of the album will set us up nicely for fall.