John Oliver, Laverne Cox and Nick Offerman Just Gave Us the Sex Ed PSA America Needs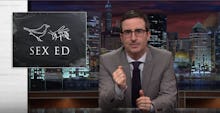 John Oliver has never been afraid to skewer the most broken systems in the United States, fearlessly tackling everything from police militarization to big pharma to economic mobility on his HBO show Last Week Tonight. On Sunday's episode, Oliver goes after another system in desperate need of repair: sexual education. 
"Parental anger over sex ed is as much a staple of the school year as square pizza and one kid coming back from summer vacation with a mustache he's way too proud of," Oliver says. Maybe, he continues, parents should be angrier that only 22 states and Washington, D.C., require comprehensive sex education, and only 13 require that the information is medically accurate. 
This "is crazy," Oliver says. "You wouldn't accept a history class not being historically accurate. 'Prince started the American Revolution in 1984 and his Purple Rain lasts until the present day. Class dismissed.'"
That's why Oliver teamed up with celebrities like Laverne Cox, Nick Offerman, Jack McBrayer, Megan Mullally, Kristen Schaal and more to produce the sex education PSA teens actually need. 
In addition to being inaccurate, abstinence-only sex education often encourages shame and judgment about the decision to have sex while ignoring consent education and often marginalizing nonheterosexual, cisgender students.
"There is no way we'd allow any other academic program to consistently fail to prepare students for life after school," Oliver says. "And human sexuality, unlike calculus, is something you actually need to know about for the rest of your life."
For this reason, Oliver calls in some friends to create the sex-ed video American teens really need.
The video tackles everything including basic anatomy:
Rather than the heterosexist framework normally touted in sex ed, insisting only penis-in-vagina intercourse is legitimate or acceptable, the video shows how various body parts can, in fact, be used in any combination.
Then there's abstinence, which is a choice — "like being a vegetarian," McBrayer notes — and people who judge that choice "are assholes," Mullally declares.
Protection is important, the group notes, and demonstrate how to put a condom on a banana.
Consent is also crucial. 
"If someone doesn't want to have sex with you, don't have sex with them," Laverne Cox explains.
"If you think you might be able to persuade someone to have sex even though they don't want to," Nick Offerman adds, "don't."
Other important yet often overlooked sex ed notes according to the group: If you call a vagina a "hoo-ha," you're not ready, lube is "your friend" and if you have the chance to have sex with Ryan Gosling — "go for it."
Jokes aside, the facts back up Oliver and his celebrity posse. Research has proven abstinence-only sex education is not only ineffective, but that educating children about sex doesn't lead to them having sex earlier. In fact, sex education sometimes delays sexual activity, whereas abstinence-only education has been linked to higher teen pregnancy rates and found to have no impact on preventing teens from having sex. A 2011 study published in PLOS One even showed that teen pregnancy rates are higher in states with abstinence-only sex education curriculum. 
Ultimately, solid sex education should be accessible in school, instead of a celebrity-driven PSA for a cable television comedy-news show. But until that's a reality, Oliver and his friends deserve a round of applause for their humorous and valuable PSA, reminding us all that sexual education shouldn't have to be scary.
h/t the Daily Dot