This Viral "Pregnancy Reveal" Couple Is Opening Up About Their Miscarriage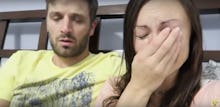 Last week, YouTube stars named Sam and Nia posted a semi-controversial pregnancy reveal video that went viral. Just three days later, the couple learned they had miscarried, as they reveal in an emotional new video on their channel.
"It was like, a huge celebration, and then it just — bam," Nia says in the YouTube clip. "It hit us like a bomb."
A heartbreakingly common problem: Sam and Nia aren't alone. According to the American Pregnancy Association, anywhere from 10% to 25% of pregnancies will end in miscarriage. If that number sounds surprising, it's likely because few people are so open about sharing this heartbreaking news, whether because of the shame associated with losing a pregnancy or simply because couples are loathe to open up about bad news on social media. 
When celebrities speak openly about miscarriage, it's usually in the context of a successful subsequent pregnancy. Mark Zuckerberg and his wife, Priscilla Chan, for instance, spoke about undergoing three miscarriages when they publicly announced that they were expecting a baby girl. Mariah Carey and Nick Cannon told Barbara Walters about their past struggles with miscarriage in 2011 after they had conceived twins.
But Sam and Nia's story is somewhat unique in that they publicly announced their pregnancy early on in the process, meaning that millions of people were watching their story unfold in real time. And while most audience members were thrilled to share in the couple's joy after they found out they were expecting, real life unfortunately doesn't always match up to the fairy tale endings we hope to see on YouTube. 
While we had our issues with the problematic undertones of the original pregnancy video (and we were far from the only ones), this is a heartbreaking development in this couple's public story. It's commendable of Sam and Nia to speak so openly about a reality of pregnancy that doesn't get talked about nearly enough. 
Watch the full video below:
Aug. 10, 2015, 3:35 p.m.: On Aug. 9, Sam and Nia posted the following message on Twitter:
Following criticism on Twitter that the language in the tweet was insensitive, the couple tweeted the following on the afternoon of Aug. 10:
Mic has reached out to Sam and Nia via multiple avenues for comment and has yet to receive a response. This post has been updated with their tweets. 
h/t Daily Mail