Iggy Azalea New Album 2015: Everything We Know About Her Next Release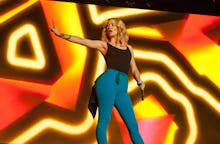 Two months after Australian rapper Iggy Azalea broke the news that she had abandoned six months of work on her second studio album and "started totally new," the artist has revealed that she's making progress on her latest music and that fans can expect the first tracks by 2016. 
Azalea, née Amethyst Amelia Kelly, took to Twitter over the weekend to talk about her anticipated new music and promote the follow-up to her 2014 debut album, The New Classic. According to the "Fancy" singer, she's completed six songs so far for the new album. 
What we know so far: Azalea first hinted at a new album in December in a series of tweets reflecting on her past year. 
"Every year people doubt me and say it will be my 'last' year, but as i look back i realize things only keep growing and improving for me," the rapper tweeted Dec. 10. 
Fielding questions from fans on Saturday, Azalea said she planned to release the first single off her anticipated album "next year."
She also responded to a Twitter user asking whether fans could expect more than 12 songs with "you won't." 
A documentary is expected to accompany Azalea's new album and is being filmed during the recording process, according to NME.com. 
A tough year for Azalea: This year hasn't been without controversy for the rapper. In June, Pittsburgh canceled her scheduled LGBT Pride performance after homophobic and racist tweets from the artist's past were unearthed. 
In the tweets, Azalea recalled playing soccer with five "dyke bitches" and said, "When guys whisper in eachothers ears I always think its kinda homo." 
Then there was the outcry over Azalea's use of black cultural signifiers, which reached its fever pitch in the hip-hop community in December. Artists criticized the white Australian rapper for exploiting black culture and stealing ideas from black artists. 
Among Azalea's most vocal critics was New York-based rapper Azealia Banks, who lambasted the artist for not speaking out against recent police violence against black people. 
Most recently, the singer canceled her Great Escape Tour in May. The Azalea camp sent an email to ticket-holders that month telling them that there would be "a new tour planned around Iggy's new record to be released in 2016," according to Billboard.