'Straight Outta Compton' Is Producing the Internet's Greatest Memes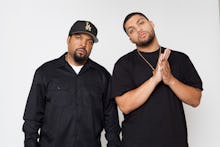 In anticipation of Straight Outta Compton premiering in theaters, Universal Pictures created a meme generator called "Straight Outta Somewhere" for the Internet to revel in before the August 14 release. 
Users upload any image, normally of a person, and are encouraged to write in their hometown. Then, a sticker appears in front of the image that says "Straight Outta" followed by any given word. So, of course, the Internet has used the generator as an innovative tool for jokes, puns and shots fired. 
As the Compton memes started trending across social media, it was clear no one was safe from the shade being thrown around, as per usual. The Internet hasn't forgotten the Drake vs. Meek Mill Twitter war that went down between the two in early August, and they took the chance to diss Meek Mill even further:
Some are also using the meme to bring attention to some important issues, like the California water drought that has been plaguing the region:
And then, of course, the mass population of the Internet immediately took to "Straight Outta Somewhere" to roast just about any target imaginable: