Gamescom 2015: 'World of Warcraft,' 'Call of Duty' and Other Big Announcements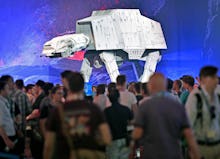 Gamescom 2015, Europe's premier trade fair for interactive games and entertainment and the world's largest gaming event, wrapped up Sunday in Cologne, Germany, after a five-day event that boasted record attendance, representatives from some 40 countries, a lot of gaming and some big reveals.
Virtual reality, 3-D glasses and e-sports were the featured products this year at Gamescom, according to Deutsche Welle. The fair included some of the biggest names in the gaming industry and was Gamescom's seventh year.
This year's biggest reveals. Among the mostly highly anticipated announcements at Gamescom were the reveal of World of Warcraft: Legion and some big news on the Call of Duty: Black Ops III front. 
Blizzard Entertainment unveiled World of Warcraft: Legion, the online game's sixth expansion, according to IGN Entertainment. 
"The expansion will revolve around the invasion of the Burning Legion with other features including the new Broken Isles Continent, a level cap raise to 110, a new dungeons and raids, new Honor System, new Artifact Weapons like Ashbringer, Class Order Halls and a New Hero Class — Demon Hunter," IGN reports. 
The company released a cinematic trailer to give fans a taste of things to come: 
For people who love the Call of Duty game series, there's a big change coming to Call of Duty: Black Ops III, according to Youth Health. Fans of the competitive multiplayer could expect a different ranked play system and new weapons, gears and specialists, as well as a new competitive play arena. 
"In a way, it's another part of the match, not only for the viewers to interact with what's happening on the screen, but it also adds a little bit of strategy to the game," Rexly Peñaflorida of Tom's Hardware writes. "These changes come in the form of bans and protects, a Specialist draft and editing loadouts, all before the game even starts."
Other big mentions. Gamescom organizers announced their pick for the overall game of the show on Sunday, with the award going to Star Wars Battlefront, according to GameSpot. The game is expected to be released in November.
New details also emerged about the hotly anticipated installment of the Final Fantasy series. However, developer Square Enix has yet to announce an official release date, according to IGN. The publisher unveiled new story backgrounds and this trailer: