Staten Island Yankees Celebrate "Blue Lives Matter" Exactly One Year After Michael Brown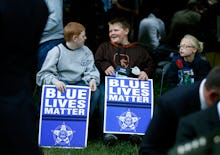 New York minor league baseball team the Staten Island Yankees has come under fire for hosting a "Blue Lives Matter Day" event at its stadium on Sunday, one year after the police killing of Michael Brown. Brown's death in part sparked the the nationwide #BlackLivesMatter movement meant to draw attention to police killings of black Americans. 
The event, a Staten Island Yankees and Brooklyn Cyclones game, was meant in part to raise money for the Blue Lives Matter NYC charity. The charity was founded shortly after the slaying of New York Police Officers Rafael Ramos and Wenjian Liu in December. Its name was derived from #BlackLivesMatter. 
The organization was set up to "raise awareness and enlist the public's aid for the needs" of police officers and provide their families "with comfort and support as they go through hard times," according to the charity's website.
The Staten Island Yankees, the Short-Season A affiliate of the New York Yankees, said the event was to raise money for the charity. The ballpark gave away wristbands bearing the organization's name, sales of which reportedly had previously raised $100,000, according to SILive.com. Blue Lives Matter founder Joe Imperatrice, an NYPD sergeant, said the organization hoped to "make this an annual event."
Ill-timed: Critics pointed out the Blue Lives Matter fundraiser was held on the one-year anniversary of the killing of Brown, the unarmed black 18-year-old who was shot multiple times by a white police officer in Ferguson, Missouri, on Aug. 9, 2014. The shooting sparked protests nationwide and drew attention to police killings of black people. 
Sunday's Staten Island Yankees event also came just over a year after the fatal police chokehold in of 43-year-old Eric Garner in July 2014, who was stopped for selling cigarettes illegally on the street in Staten Island and was ultimately choked to death by a police officer. 
The rise of Blue Lives Matter: With increased scrutiny of law enforcement across the country, the phrase "blue lives matter" has at times been used to show solidarity with police officers. 
Critics of the Blue Lives Matter organization have claimed the charity's name undermines the Black Lives Matter cause. "Blue Lives Matter ... is not about supporting the police during a difficult time," Monica Weymouth of Philadelphia Magazine wrote of the charity in December. "[The organization] is a racially charged reaction to Black Lives Matter ... It is an inflammatory slogan that occupies that strange, uncomfortable space between threatened and threatening."
"Like the refrain 'All Lives Matter' it is used — online and elsewhere — to undercut the notion that there is a particular problem with police brutality against people of color," Judd Legum of ThinkProgress wrote. 
Yankees executive responds: The team could not be reached for comment, however Yankees executive Michael Holley responded to critics of the "Blue Lives Matter Day Event" in an email to a reader of the Root who criticized the fundraiser. 
"I completely understand if you aren't willing or able to agree with our participation in this fundraiser, even if that means no longer considering yourself a 'fan' of our organization – and if that is so, I truly apologize," he said. "But I hope that you will try to understand that our goal is to support those in need, and NOT to provide ammunition for the political and social battles that we are all facing. This has been a difficult issue for us as we walk a thin line." 
He added that he was "ultimately ... comfortable with the decision to support an organization that helps those in need."