Joanna Newsom Just Announced Her First Album in 5 Years With a New Video for "Sapokanikan"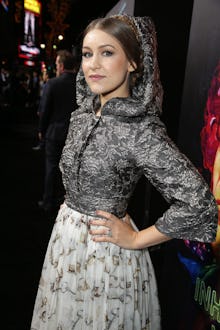 It's been five years since we've had any new Joanna Newsom in our lives. Monday, she broke her silence. The harp-playing folk star returned to the scene with a video for a new single, "Sapokanikan," which is the name of the Lenape village that used to stand on the island of Manhattan before Dutch settlers began to build their city. Directed by Paul Thomas Anderson, the video shows Newsom walking through what that village has now become — New York's Greenwich Village — singing along to her twinkling glockenspiel and piano tune.
Newsom's last album, a triple LP called Have One on Me, earned rave reviews for the way it highlighted the breadth and depth of her songwriting. Her new music seems to continue the happy marriage she's struck between classically inspired folk and rollicking bluegrass.
Though Newsom has been quiet on the music front, she's been stretching into some new artistic avenues. In 2012, she appeared on Portlandia, trying to fit her harp into a small hatchback after an picturesque jam session in a flowery meadow. Last year, she starred in Anderson's Inherent Vice, which is presumably how she was able to recruit him to direct the video. 
The video also comes with even more amazing news: We'll have a new Newsom album coming in October, entitled Divers. "[F]urther along and down the road apiece from where she took her leave of us, Joanna Newsom plays on. Breathe deep and equalize your today-ears to the new world of Divers," reads the product description on Newsom's label, Drag City. It will likely be as enchanting an experience as "Sapokanikan." All her music always is.
Watch the full video below.
h/t NPR