Sunday Night's Shooting in Ferguson Reveals What Hasn't Changed In the Past Year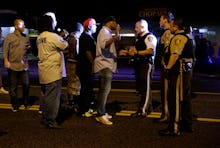 There's a common theme linking many of the reactions to last night's shootings in Ferguson, Missouri: Nothing has changed.
On Sunday night leading into Monday morning, peaceful demonstrations commemorating the one-year anniversary of Michael Brown's death at the hands of former Ferguson police Officer Darren Wilson were interrupted when gunshots rang out near the city's West Florissant Avenue, resulting in the critical injury of yet another young black man.
Note: The video below contains graphic content.
The aftermath bore eerie similarities to what was happening this time last year, observers say.
"If you held up pictures of August 9, 2014, and August 9, 2015, side-by-side, it's hard to tell the difference," Kayla Reed, a St. Louis-based field organizer with the Organization for Black Struggle, told Mic in an interview.
Heavy police deployment, and the use of gas grenades to disperse crowds, comingled as another black 18-year-old — this time, Tyrone Harris, Jr., who remains in critical condition at a nearby hospital — lay facedown in a pool of his own blood while police officers stood over him with their guns drawn.
For some, it was a grim thematic rehash of the day that Wilson killed Brown, and its aftermath. 
The St. Louis County Police Department says that Harris opened fire first, prompting officers to shoot back. But rising skepticism around police versions of such incidents — in which black people end up dead under unclear circumstances — suggests this story is far from resolved.
Suspicion is even more pronounced given the events of the past year. Protests sparked by Brown's death and the subsequent failure to indict his killer have ballooned into a nationwide movement against anti-black police violence, united under the banner and hashtag #BlackLivesMatter.
This weekend, hundreds gathered in Ferguson to mourn and pay tribute to the movement's symbolic birthplace.
But even that did not go as smoothly as intended. 
"The police have been antagonistic since the start," Reed told Mic. "On Thursday, they were setting up cement barriers around the Ferguson Police Department and the parking lot across the street where people would gather to protest. And during moments of silence, like one we were having on Canfield Drive [where Brown was killed], they had a drone flying overhead to watch us — 'for safety,' supposedly."
"The police have been antagonistic since the start."
Meanwhile, police killings of unarmed black people across the country continue unabated. The Washington Post and the Guardian are both compiling databases of the people they can find who've been killed by police in 2015, pegging the unofficial number at somewhere between 585 and 708. The Post reports that 24 of these victims were black and unarmed.
According to the Associated Press, 40 law enforcement reform measures have been passed across 24 states this past year, all attributable to the widespread backlash surrounding Brown's death. But tellingly, one place has been noticeably missing from this new wave of policy shifts: Missouri itself.
"I'm absolutely not satisfied with the changes that have been made here in the past year," Reed told Mic at a press event last week. "We had 100 bills submitted to the [Missouri state] legislature at the top of the year. Only one passed."
That one is Senate Bill 5, which limits the capacity of municipal courts to draw revenue from fines imposed on citizens — a major issue that disproportionately impacted Ferguson's black population for years, according to a U.S. Department of Justice report. 
At the local level, a civilian oversight board is now in place to help shape Ferguson police practices moving forward, Reed said. Local community groups are also in talks with the DOJ over what comes next for the city's law enforcement. But a feeling of stagnation persists.
"There's still no transparency, even now [around last night's shooting]," Reed said. "The people in City Hall are the same. The culture is the same. ... As we move into this next year, we need to prepare ourselves for the work that needs to continue.
"The Ferguson community wants to see change, but the culture of policing here has been resistant," she added. "We keep seeing police officers who are comfortable in a system that oppresses people."