Donald Trump Survives and Carly Fiorina Thrives in New Poll out of Iowa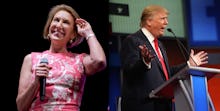 Iowa Republicans are hot for Donald Trump and warming up to Carly Fiorina, according to a new survey released Thursday afternoon by Public Policy Polling.
Trump leads the GOP field in the Hawkeye State with 19% support, while Fiorina, the former Hewlett-Packard CEO whose low poll numbers relegated her to the "happy hour" debate last week, hit double digits for the first time, with 10%.
Ben Carson (12%), Wisconsin Gov. Scott Walker (12%) and former Florida Gov. Jeb Bush (11%) landed in the middle, while Kentucky Sen. Rand Paul has fallen out of the pack, carrying only 3%.
Fiorina, who impressed with slick performances at New Hampshire's Voters First Forum on Aug. 3 and again on Thursday in Cleveland, was expecting to see a bump in her numbers. In addition to her top line surge, she also saw her favorability rating skyrocket to 56% from only 30% in April. 
Trump appeared destined for a fall, but it has so far not materialized.
On Thursday night, Fox News debate moderator Megyn Kelly repeatedly poked at the boisterous billionaire during the network's prime-time presidential debate, at one point highlighting his habit of dismissing female critics with misogynist Twitter rants. Trump responded by training his social media ire on Kelly overnight, then dialing in to CNN Friday to suggest she had been "bleeding from her wherever" during their prime-time exchange.
Influential conservative blogger Erick Erickson, notable for having once called first lady Michelle Obama a "Marxist harpy" disinvited Trump from his RedState Gathering this past weekend, describing Trump's comments on CNN as "a bridge too far."
But the hammer hasn't fallen yet. Despite this latest round of ugly rhetoric, tons of ideologically indifferent bad press, including a barbed critique from conservative pundit Charles Krauthammer, who called Trump's debate performance a "collapse," the real estate man is feeling no pain in the polls.
His favorability rating in Iowa stands at 46% — up six points from 40% during April. 
"Trump's public fight with Fox News might hurt him in the long run," Dean Debnam, president of Public Policy Polling, said in the assessment of the results. "But for the time being he continues to lead the pack."
"Evangelicals, men, women, voters in every age group, moderates, voters who are most concerned with having the candidate who is most conservative on the issues, and voters who are most concerned about having a candidate who can win the general election" are all breaking toward Trump, according to Debnam.
A new national poll from Reuters and Ipsos, also released Thursday, appears to confirm the PPP findings. 
"Trump led the party's 17-strong 2016 presidential field with the backing of 24% of Republican voters," Reuters reports, "unchanged from before Thursday's televised debate."