Here's What Happens When Straight Guys Use Tinder to Pick Up Other Guys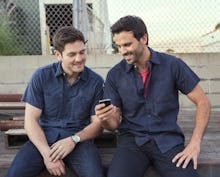 "You ever suck a straight dude's cock?"
This was the question Benjamin* asked me when I matched with him last summer on Tinder. He dropped the charming line just five minutes after explaining to me that "oops," he wasn't gay, the app must have fucked up and popped me, a male, into his feed by accident. Our match was probably just a result of his "aggressive" swiping tendencies, he added.
The fact that Benjamin started inquiring about blowjobs so quickly after declaring his absolute straightness was a little jarring, but I went with it anyway. I jokingly told him I'd only S his D if he'd reciprocate. He said he'd consider it. A few messages later, he proposed a dick pic exchange.
As fun as it was to flirt with Benjamin, I wasn't seriously considering hooking up with him. I had already learned by then to avoid getting with closeted guys. I'd been there, done that (and them) and always ended up resenting them for enjoying the pleasures of gay sex while not owning up to the rest of the gay package. Just come the fuck out already, I'd always think.
But lately, thanks to a flurry of coverage surrounding a controversial new book titled Not Gay: Sex Between Straight White Men, I've been questioning my initial assumptions. What if Benjamin and the other "closeted" guys I'd been with weren't closeted at all? What if not all men who hook up with other men are gay or bisexual?
These are complicated questions. While many of us may be quick to label men like Benjamin as something other than straight, Jane Ward, Not Gay's author and a gender and sexuality studies professor at the University of California, Riverside, argues that heterosexuality is a label that could very well include homosexual contact.
"To say that any man who switches his Tinder profile over to get head from a guy is just covering up his gayness... that would be painting with too broad a brush," she told Mic over the phone last week. "That could be what's going on, or he could be a straight guy. He knows there are gay and bisexual identities, but he has no interest in either of those. He feels totally at home in straight culture. That is the story of his life. Who are we to say his entire life is a lie because he has the capacity to have sex with a man once?"
This argument is the crux of Ward's book, which is arriving at a time when sexual fluidity is enjoying something of a cultural moment, with female celebrities like Ruby Rose and Miley Cyrus coming out in favor of loosening (or straight-up ditching) sexual identity labels. 
But somehow, while the idea of straight women dabbling in the vaginal arts seems totally valid, we can't seem to wrap our heads around the fact that straight men might have sex with each other.
There are myriad reasons for this double standard, chief among them a culture that glorifies masculinity and demands that men be sturdy and inflexibly hetero. "We want to believe that straight men are completely subject to their biological instincts and urges," Ward said. Such logic dictates that the masculine drive to put a P in a V is so strong, it completely negates any semblance of same-sex attraction. 
"Who are we to say his entire life is a lie because he has the capacity to have sex with a man once?"
If heterosexuality were truly so rigid, there wouldn't be so many straight guys having "gay" sex. I'm not the only gay guy on Tinder who's been propositioned by one of the app's straight users. "It happened to me once," a Twitter follower told me after I tweeted about my Benjamin incident last summer. "I've had the same thing happen to me. It's so weird!" another commented on my blog.
Back in January, writer Eliel Cruz added a layer to this discussion by seeing how straight men responded to him on Tinder, after he switched his settings to "female." After stumbling upon him, some of these straight men seeking females actually got more sexual than he expected. 
"These men weren't actively searching for other men," Cruz wrote on Mic. "But the opportunity presented itself, and they seemed willing to take it."
These stories are in line with what's actually a long history of straight dudes engaging in gay sex, which Ward explores in her book. Ward cites the phenomenon of straight men getting sucked off by anonymous dudes in public restrooms or parks back in the 1950s and '60s, as well as the world of Craigslist's Casual Encounters listings, where straight (and often married) men post ads looking for no-strings-attached gay sex on the side, or just "jack-off buds."
Data backs up the reality. According to a 2006 study from the Annals of Internal Medicine, nearly 10% of self-identified straight men had engaged in gay sex within that past year (a number that might be even higher if including other acts that didn't result in getting off). 
Some examples, such as Hell's Angel bikers who would sometimes make out with each other, were instances of (ironically) asserting masculinity. But other times, such quote-unquote "gay" acts like male-on-male cuddling might be motivated by a simple thirst for male intimacy, which would certainly explain the Friends episode where Ross and Joey developed a secret habit of taking cuddly naps together. 
"Sometimes it is about being able to be close enough to other men ironically or paradoxically without being perceived as gay," Ward explained to Mic. "Sincere tenderness is considered more gay than a homophobic slapping of another guy's ass."
The fact that we're quick to label such behavior as "gay" says a lot about our culture. Above all else, the examples of dude-on-dude intimacy discussed in Ward's book reveal just how much we cleave to our definition of heteronormative masculinity. This limited view is evident by how those who are strictly dickly — straight women and gay men — are conditioned to view even the most mildly bi-curious guys.
"Women are often responding to what people have long believed, when it comes to men, that there's the 'one-drop' rule of homosexuality. One experience means he's gay, in the closet," Ward said. That can prompt fears on the part of a straight woman that her male partner isn't attracted to her, or he'll ditch her to be with a man, Grace and Frankie-style.
On the flip side, the masculine ideal causes many gay men to fetishize straight men who are willing to go gay. The prevalence of "straight-acting" profiles on Grindr and the popularity of straight men in gay porn are key examples of such fetishization. 
That fetishization isn't always positive, as some relationships between gay men and the straight men who dabble with them are underpinned with resentment. "There's a pleasure that some gay men take in having straight men exposed for engaging in some of the same kinds of behaviors that gay men are shamed for and discriminated against for participating in themselves," Ward said.
"Women are often responding to what people have long believed when it comes to men, that there's the 'one-drop' rule of homosexuality."
We have to teach ourselves to see male sexual fluidity, as well as women's. I'd be lying if I said that learning about all the straight men supposedly having sex with gay men didn't make me skeptical (and cause some sexual FOMO). Besides the few Tinder interactions, I hadn't grown up surrounded by sexually fluid men; on the contrary, homophobia was more overt, to the point that most of my guy friends were uncomfortable undressing in front of each other at sleepovers past the age of 12, let alone sucking each other's dicks.
But allowing personal hangups on masculinity and heterosexuality to shape our views of the straight men in our lives may only rob men of their sexual agency and refresh the cycle of homophobia.
I'll never really know why Benjamin swiped right on me on Tinder. He blocked me shortly after our exchange, and while it's very possible that this was because he was closeted, it's equally possible that he isn't. Maybe he just wanted a "bro-job" and was able to find it more easily from someone else. Or maybe his curiosity had just expired, and he wanted to get back to swiping on his primary sexual interest: women. 
His story could go in any number of directions. But it should probably be his to tell.
*Name has been changed.