18-Year-Old Tyrone Harris to Be Charged With Assault After Ferguson Police Shooting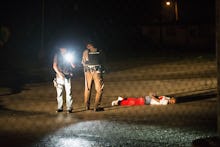 Tyrone Harris, the 18-year-old man involved in a shootout with police officers in Ferguson, Missouri, is to be charged with multiple counts of assault for firing at law enforcement, St. Louis County prosecutors said in a media advisory emailed to reporters Monday afternoon. 
The charges issued against Harris were four counts of assault on law enforcement in the first degree, five counts of armed criminal action and one count of discharging or shooting a firearm at a motor vehicle, according to the St. Louis County Prosecuting Attorney's Office's emailed statement.
Late Sunday, Harris allegedly opened fire on four plainclothes detectives in an SUV, striking the vehicle and another unmarked police car several times. Harris was wounded in the late Sunday night shootout and was taken to a nearby hospital, where he is in critical condition. No officers were injured. 
Harris is being held on $250,000 cash bond, according to St. Louis officials.  
According to Harris' father, Harris was close to Michael Brown, whose death gave rise to nationwide protests calling attention to police brutality against black Americans. 
Law enforcement had been monitoring Harris on Sunday because they suspected he was armed, according to the St. Louis Post-Dispatch. 
The incident occurred one year after the death of 18-year-old Brown, who was killed by former police officer Darren Wilson on Aug. 9, 2014. Residents of the St. Louis suburb still reeling from the events of last year honored his life with peaceful vigils on the anniversary.
However, peace turned into chaos Sunday night. In a separate incident following the Harris shooting, two teens were shot in the chest by a man wearing a red hoodie near the spot where Brown was killed, according to CNN. Both teens were hospitalized. 
"The weekend's events were peaceful and promoted a message of reconciliation and healing," Attorney General Loretta E. Lynch said in a statement, according to the New York Times. "But incidents of violence, such as we saw last night, are contrary to both that message, along with everything that all of us, including this group, have worked to achieve over the past year."
Gov. Jay Nixon said the violence marked "a sad turn of events" and said he had hope that Monday's protests would remain peaceful, the New York Times reported.