I'm About to Spend $90 on a Lipstick. Here's Why That Might Actually Make Sense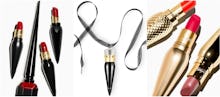 I am mesmerized by all makeup, but nothing more so than lipstick. When Christian Louboutin, of the oh-so-famous red-soled heels, announced Aug. 5 that his company is launching a lipstick line, I was excited but skeptical. Here is a designer known for sky-high heels with price tags equivalent to my monthly rent. His successful nail polish collection, launched in 2014, costs $50 a bottle. 
Sure enough, the new Louboutin lipstick will cost $90. For a single tube.
My jaw dropped when I saw the price. Then, a funny thing happened: I started rationalizing. The shoe designer had tapped into my longtime fascination with lipstick and love of shiny things. But he also tapped into a reality that's not only true for me, but for plenty of other cash-strapped twenty-somethings. For us, expensive beauty products actually make perfect sense.
Small luxuries over big ones: So-called millennials like myself aren't big spenders. In fact, we're pretty frugal, often comparing prices online before setting foot in stores and sticking to affordable clothing chains. That doesn't mean that we're afraid of dropping some cash on a purchase, however — we just do it selectively. (Just look down at your glossy iPhone.)
Beauty products are part of the big-spending category. Millennial women ages 25 to 34 are the biggest cosmetic shoppers and we're willing to shell out more for the goods: Millennials pay an average of 25% more for cosmetics than other shoppers do, according to data from a TABS Group consumer survey. Just take one look at the explosion of YouTube beauty tutorials to see how much pricey makeup young people are buying.
Among those who buy makeup, Hispanics and Latinos make more purchases than other ethnic groups, according to the analysis by TABS Group. Of the "heavy" makeup shoppers (more than 10 pieces a haul), 42% said social media was an important factor in their buying decisions.
I count myself among those shoppers — 20-something, Latina, social media savvy — and the big-spending logic makes perfect sense to me. I may not have money for a closet's worth of luxury clothes, but I can handle a luxury lipstick. It's all the more appealing if I'm using it for the latest YouTube makeup tutorial — or to arrange in a perfect array for an Instagram snap.
Made to make our followers jealous: A $90 lipstick must promise something more than great color, and it appears the Louboutin lip lacquer will do exactly that when it comes out Sept. 1. The collection, inspired by Queen Nefertiti, comes in 38 different shades and three different finishes, according to Style.com. The packaging, ultimately, is the biggest draw. 
"This lipstick will be coveted by others," Louboutin said, according to Marie Claire UK, "suggesting a purse full of rare and precious stones that could have been discovered in Ali Baba's cave, it will arouse lust and desire ... and is made to be stolen."
In short, it's made to make our followers jealous. The casing gleams gold, with a crown-like cap on the top and a bottom that tapers off into a bullet shape. At the very top is a small hook, making it easy to link to a necklace. Yes, this thing is wearable.
Being able to wear the lipstick around your neck offers extra functionality, sure. More importantly, it makes it a shiny accessory will get people talking (or at least asking, "Where'd you get that big necklace??") — a real draw for young shoppers who apparently want their products to tell a "story." 
"When you think about marketing, a very important consumer group for beauty is the millennials and they respond to strong, relatable story lines," James Russo, who headed up a study of millennial shoppers, told the National Association of Chain Drug Stores. "The younger millennials — between 18 and 25 — want to know about the efficiency and functionality of the product. For older millennials — 26 to 34 — information on product benefits and the resulting lifestyle changes resonate well."  
Louboutin has the "resulting lifestyle" story down pat, as evidenced by the product's press release:
"When a woman carries a handbag, we look at her shoulders. When she slips on a pair of heels, we observe her walk. If she applies lacquer to her nails, we admire her hands. With its slow, circular application, lip makeup becomes a rich and sensual gesture."
'This precious object will be coveted by others,' Christian Louboutin says of his new creations. 'Suggesting a purse full of rare and precious stones that could have been discovered in Ali Baba's cave, it will arouse lust and desire...and is made to be stolen.' 
Makeup that's more than just makeup: That "sensual" story" is the kind I'm sometimes looking for. Glamour and beauty were synonymous in my mind when growing up. Blame it on a childhood spent watching telenovelas, featuring stars with perfectly manicured hands, curled hair and spot-on makeup. There are days where I want that luxurious look, and I'm willing to shell out for it — in small doses.
Owning Louboutin shoes is tough, pricewise, but a lipstick I can handle. It's my luxury — and between the beauty tutorials I'll use it in, the photos I can share of it and the conversations it will start, it will be worth every penny.