Forget Clothing Labels, Musicians All Want to Move Into Apps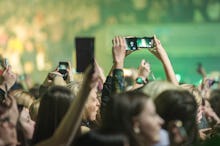 Songs aren't selling like they used to, but that doesn't mean that music is dead.
According to Nielsen, both total album sales and sales of new songs dropped in 2014. Album sales are down by 84%, data blog Seatsmart reports, and digital music sales aren't doing well either. While streaming services are on the rise, musicians rake in small fractions of royalties for thousands of song plays — and they're sick of it.
Among those trends, however, is one bright spot that has the potential to help musicians make up that lost revenue: mobile apps.
"We are about to go into a time where there's going to be more opportunity than ever," Benji Vaughan, CEO and founder of Disciple Media, a company that builds apps for musicians, told Mic. "[Artists] need to take that leap and not just rely on major platforms like Spotify and Facebook. They need to use those platforms to build an audience, and then move it to their own platform."
The appeal of apps? They create a space where an artist can instantly connect with thousands of fans. The apps Vaughan and his team are creating let fans enter a hub where they can access everything about a given artist, including new original content, merchandise and updates in real time. Vaughan believes this has huge potential for the artists.
"If they can get 1 million, 2 million, 3 million people to install their app and get engaged, and they can start coming up with purchases for fans, they can generate huge sums of money," he said.
While Vaughan is creating individualized musician apps, an app called Bandsintown is helping musicians make up for lost money from album sales by getting more people to invest in live music. Although album sales and digital downloads are plummeting, Seatsmart reports that concert ticket revenues are up 50% from last year, and apps can help musicians connect with fans to get them to more shows.
Bandsintown figures out what the listener likes by analyzing their Pandora, Spotify or Rdio profiles. It then finds tour dates and live performances for bands that listener is interested in. Through the offshoot Manager and Analytics apps, artists can learn exactly where their fans are so that they can schedule tour date locations where they know they have dedicated fan bases. They can also input their tour information and send messages directly to fans before a specific show.
"Artists nowadays are generating more money on the road than they are selling or streaming," Bandsintown communications director Leah Taylor told Mic. "We're driving more people to shows. We're driving more people to buy tickets, which is ultimately resulting in more people making money for touring."
Bandsintown says it now has over 18 million people following artists, and tells Mic it sends 5 million people a month to ticketing sites through the app. George Rogerson, its executive vice president of business development, says the app's major benefit lies in its analytics services.
"Today, we have artists that have millions of trackers [on Bandsintown]," Rogerson told Mic. "Some up-and-comers have more trackers on Bandsintown than they do on Instagram, Twitter or anything. They have to tour, and Bandsintown gives them the opportunity to reach the fans."
A number of the top trending artists on Bandsintown including Joss Stone and MKTO, have more followers on the website than they do on Instagram or Twitter, respectively. 
But while there is huge potential for musicians to reach audiences through apps, it's still unclear if these methods will completely make up for the rise of streaming services over album sales and digital downloads. Apps can help artists gain more exposure, but they have to be able to capitalize and, eventually, monetize that exposure to be successful.
"The days when you're getting people to spend 15 or 20 dollars on eight pieces of music are over," Vaughan said. "What is completely different now is the scale of reach an artist can have."
With apps like Bandsintown and personalized musician apps created by Disciple Media, artists have the potential to tap into their large audience, but every artist — and fan base — is unique. If a musician can capture their unique audience in an app, they'll be fairly successful. If not, this could be a fruitless exercise. 
"I 100% think in the next year or two years, who absolutely nails this relationship, this mechanism of relating directly with their fans — they'll generate huge sums of money if they get it right," Vaughan said.
This series is part of a collaboration between Qualcomm® Snapdragon™ and Mic to explore how technology impacts our generation's relationship with music. With a Snapdragon processor powering your phone, you'll experience music with superior surround-sound, and epically-fast 4G LTE. This story was written by Mic's branded content team with no involvement from Mic's editorial staff. For more stories in this series, click here >>