The Future of Google Is Called Alphabet — Here's What's in It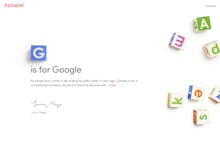 On Monday afternoon, Google founders Larry Page and Sergey Brin made a surprise announcement: a massive rebranding of their megacompany. Google Inc. is now Alphabet. 
Beneath its colossal Silicon Valley canopy will be Google itself, in addition to a stack of other companies. Google, the big moneymaker, will remain as it was, just under new leadership: Sundar Pichai, formerly Google's product chief, is taking over as CEO. 
With Pichai leading Google, Brin and Page are using Alphabet to focus on ambitious "moonshot" projects. The rest of the companies under Alphabet's umbrella are more experimental. They're looking at the future head-on, creating products and services that could be, quite literally, life-changing. 
Calico
Headed by Apple Inc. chairman Arthur Levinson and partnered with Google Inc., the research and development biotechnology company's main focus is combating aging. Strangely, it isn't run by Google's own Ray Kurzweil, a futurist whose life's work is focused on extending human life forever.
Calico's little staff is almost all doctors and researchers focusing on medicine, biology and genetics. For an idea of what that's going to look like, Calico announced it was partnering with AncestryDNA to investigate human hereditary lifespans by evaluating millions of family trees, which AncestryDNA has access to because it's one of the best-known lineage-tracing websites on the Internet.
Life Sciences
Next up is Google's secretive research lab, Google X, and its Life Sciences division, which is working on a "smart" contact lens, allegedly able to monitor blood glucose levels in the tears of people with diabetes. It uses a small wireless chip and a sensor to take measurements once per second, even possibly using LED lights to indicate glucose levels have crossed into unsafe levels. This is the same lab that also snagged Liftware, the tools for people with Parkinson's disease, and made plans to run nanotechnology-based tests for cancer. 
Other big Google X projects include self-driving cars and balloons that hook up developing nations with Internet access.
Fiber
The home network of the future: Google's high-speed Internet service promises speeds that are about 40 times as fast as your apartment's Time Warner Cable. Everyone wants it, but so far, Fiber is in only three cities and expanding to a few more.
Wing
The X Lab also snagged Wing, Google's shot at a drone-delivery system, which is having a rocky start out the gate. Earlier this year, Project Wing had a test flight loaded up to carry, among other things, medical supplies, water and radios to farmers in Australia.
Nest
The Internet of things is coming for your home, wiring every device to your mobile phone. Nest, a smart thermostat, was acquired by Google in 2012. The company is working on developing new Internet-connected home products, such as a security system.
One thing is for sure: Google is going full-bore on the future. Coming from a company with the bazooka-strength financial firepower to make a difference, we could be seeing some incredible leaps in biotechnology very soon.