Ferguson Protests Result in Dozens of Arrests Late Monday Night Amid Relative Calm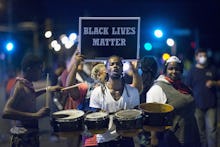 For the fourth night in a row, protesters and police continued to clash on West Florissant Avenue in Ferguson, Missouri, the same road that saw major protests last year following the fatal police shooting of 18-year-old Michael Brown. 
St. Louis police confirmed early Tuesday morning about two dozen arrests were made after hundreds of protesters marched onto West Florissant Avenue late Monday night. 
At least one police officer used pepper spray on the crowd. However, there were no reports of looting or burglaries and no shots were fired, according to USA Today. 
Officials declared a state of emergency Monday ahead of the night's protest along West Florissant Avenue.
"They're not going to take the street tonight," St. Louis County Police Chief Jon Belmar said, according to the Guardian. "That's not going to happen."
Around midnight on Monday, police ordered protesters to clear the street. About 50 demonstrators stayed behind, the Associated Press reports. Police wearing bulletproof vests and carrying riot shields formed a blockade along West Florissant Avenue. Some demonstrators were detained. 
Witnesses shared photos and videos of the protest on Twitter. 
Police said some protesters hurled frozen water bottles and rocks at officers throughout the night, but no injuries were reported, according to Fox 2 News. By 2 a.m. Tuesday morning, the situation had become "fairly calm," the Guardian reports. 
Sunday marked one year since Brown was fatally shot by former police Officer Darren Wilson. The killing sparked nationwide protests and calls for justice amid what many said was a pattern of police violence against black Americans.
Peaceful protest devolved into chaos late Sunday night when one man exchanged fire with several police officers. The man, 18-year-old Tyrone Harris Jr., a friend of Brown's, was wounded in the shoot-out and was taken to a hospital. He was later charged with multiple accounts of assault for shooting at law enforcement.