One Magazine Shows How Beautiful It Looks When "Real Women" Are the Cover Stars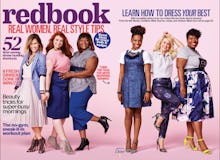 Take a look at any fashion magazine cover and you'll see recognizable faces: actors, reality TV stars, the occasional athlete. The pool of candidates tends to be slim in every sense, with body proportions resembling runway models rather than the "regular" American woman's size 12.
So when a magazine like Redbook puts non-models on the cover of its September issue, the results are a refreshing break from a longstanding beauty ideal. For the first time in the mag's history, the women on the cover aren't professional models or actresses, they're simply beautiful women with great style. 
"The six women on our cover are just as beautiful as any celebrity you'll find this month on the newsstand. Part of what makes them so gorgeous is that they are so confident, and so true to who they are," Redbook's editor-in-chief Meredith Rollins told Mic.
"They deserve their space on the newsstand next to the Rihannas and Kim Kardashians of the world," she added in a letter introducing the cover.
The six women, the winners of Redbook's Real Women Style Awards contest, are a diverse bunch, and that's no accident. In her letter, Rollins points out how the media often celebrates diversity, but often stops short of including non-celebrities in magazines:
"The media spends a lot of time pretending to celebrate diversity, sending up a self-congratulatory cheer whenever a magazine puts someone who isn't pin-thin on a cover. It's a step in the right direction, but it's awfully small. I, for one, don't want to believe that it only takes a famous face or a million-dollar wardrobe or a size-zero body to sell magazines."
Rollins is right to pinpoint the flaw in the industry's "diversity" mandates. Some magazines embrace models of color, but often limit their choices to size 2s. Plus-size models occasionally get their moment, but almost always inside the magazine — or merely online — rather than on the cover. With sneaky airbrushing, readers are unlikely to ever see wrinkles, dark under-eye circles or (God forbid) cellulite on a cover. 
"Our readers want fashion that can work in their actual everyday lives."
It makes sense, though, that readers today would want to see themselves reflected in media, meaning diverse women with differing body types, skin tones and styles. The research bears this out: When it comes to ads, a ModCloth survey found women said they were more likely to buy clothes from companies that use models of varying sizes. Another shopping study also found women are more receptive to models who look like them.
On the other hand, seeing women with unrealistic body types or exclusionary beauty features can make women — including magazine readers — feel bad about themselves. 
Which is why it's worthwhile to put "real women" on covers. And as a select few magazines, now including Redbook, have proved, that's not an impossible feat. 
"Having a diverse range of women on the cover is important because it reflects who our readers are — and we know it's what they want to see," Rollins told Mic. "September is the month when high-fashion magazines put the biggest celebrities on the cover and highlight the most cutting-edge designer looks. Those issues are amazing, but our readers want fashion that can work in their actual everyday lives. 
This is a celebration of that kind of style: it's no less inspiring, and it's way more useful.