Megyn Kelly Breaks Silence to Donald Trump: "We Won't Apologize for Doing Good Journalism"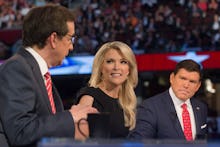 Fox News' Megyn Kelly has broken her silence on billionaire investor Donald Trump, who's vilified the news host ever since she grilled him last week in the first Republican primary debate about his sexist remarks about women.
On Monday night, Kelly defended her question to Trump last week about his past verbal assaults on women in which he called them "fat pigs" and "dogs," among other things. 
"Apparently Mr. Trump thought the question was unfair and I was attacking him," Kelly told viewers Monday night. "I felt he was asked a tough but fair question. We agree to disagree."
She added, "I certainly will not apologize for doing good journalism." 
According to a 2015 survey by Fairleigh Dickinson University's PublicMind, Fox News viewers are among the least informed of all news watchers.
Since the debate, Trump has lambasted the Fox News debate moderators, Kelly in particular, on Twitter and in interviews for what he has claimed was their unfair treatment of him during the debate. Trump has attacked Kelly's professionalism, accused her of being biased and implied she was on her period. 
"She gets out and she starts asking me all sorts of ridiculous questions," Trump told CNN on Friday. "You could see there was blood coming out of her eyes. Blood coming out of her wherever."
Social media users responded to the period comment on Twitter with the hashtag #PeriodsAreNotAnInsult to troll Trump with tweets about their periods. 
Fox News president Roger Ailes reportedly spoke with Trump about the feud between the candidate and Kelly. 
"Donald Trump and I spoke today," Ailes said in a statement, according to NBC News. "We discussed our concerns, and I again expressed my confidence in Megyn Kelly. She is a brilliant journalist and I support her 100%. I assured him that we will continue to cover this campaign with fairness and balance. We had a blunt but cordial conversation and the air has been cleared."
Trump has continued to poll strongly among likely Republican voters, despite coming across as hotheaded on the debate stage. 
You can watch Kelly's full comments on Trump below: