Ryan Adams May Have Saved This Brilliant Musician's Career With a Single Tweet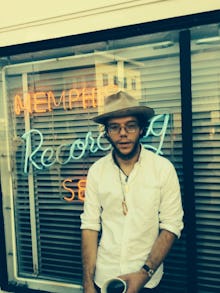 Iowa singer-songwriter Christopher Ford was about to give up on rock 'n' roll.
Or at least that's what his album claimed. Building the buzz for I'm Giving Up On Rock and Roll, which he recorded under the name Christopher the Conquered, was getting off to an slow and steady start. He'd lined a few pieces of press and given copies to a few musicians. One of the copies found its way into the hands of Grammy award-winning songwriter Ryan Adams. Last Sunday, Ford's campaign kicked into high gear when Adams tweeted out a picture of his album.
"This record is blowing my mind!!!" Adams wrote.
The Ryan Adams bump: When he saw the tweet, Ford lost it. "It felt amazing. I was shocked. I was in the car with my brother (don't worry, he was driving) and I was like 'holy fuck!'" he told Mic via email. "The fact that someone who is a very successful musician like Ryan would ever hear my music, let alone like it and then go so far as to post about it to his fans, is crazy to me."
Soon after, Ford had new fans coming at him from every angle. He took to Reddit to quantify the data, and while he didn't immediately get launched into "the late night circuit or anything like that," as he wrote, the game has certainly changed.
As Ford has learned, a social media nod from a celebrated artist can be a pretty powerful force. According to Ford's Reddit post, his YouTube video plays increased 701% from the previous week. He saw his Facebook page grow 179% in likes. His SoundCloud, which had only been getting a couple of plays a day before, jumped from 950 plays when Adams posted to 1572 within a week. 
In the middle of this rabid listening frenzy, Ford earned himself a total of $86, not including Spotify and iTunes sales, numbers that take longer to access. It's an underwhelming payday, but we all knew the music industry offers less than stellar returns to up-and-coming artists. Ford's album has also yet to drop, so fans couldn't throw their money at the musicians to purchase the album Adams' raved about. But they will soon, and man will it be sweet.
As Ford mentions in his Reddit post, he had some press pieces out that could have helped provide some of those numbers. One came from Noisey and another from Pure Volume, which premiered the above video, describing the song as a "piano man's brand of jazzy piano pop [that] recalls the pleasant qualities of Randy Newman" with "soulful vocals are reminiscent of Jeff Buckley." They could have also thrown Ryan Adams' name in there: Both share a love for winding, lyrical storytelling and honest Americana instrumentation. 
Surprisingly, Ford was not all that familiar with Adams' catalog before the tweet and Instagram. "I had listened to some Whiskeytown stuff when I was in college, and I remember seeing Gold on the shelves at Target when I was in high school, but that's about it," he told Mic. "I actually just listened to Gold the other day, after this happened, and I definitely knew some of the songs. Fortunately, I love Springsteen and Van Morrison, and there's definitely some respectful nods to those gods on that disc."
Yet the "Ryan Adams bump" has nothing on the "Reddit hammer." Incredibly, the post that Ford wrote on Reddit has brought him a ton more plays than Ryan Adams mention did. Monday, Ford tweeted the following:
Of course, that wouldn't have been possible with Ryan Adams, who is currently in the studio recording a cover of Taylor Swift's 1989 in the style of the Smiths. Adams' may have just launched an entirely new talent into the music world.
"With this new album, I am kinda all-in, emotionally and financially," Ford told Mic. "A lot of other people dedicated a lot of time to making this thing, so I've felt a pressure to really take it to the next level from where I've been. Seeing this post from Ryan really validated a lot of the work I did on this record, at least for me personally."
"Ryan Adams has a new fan for life in me," Ford added. "I really need to buy that guy a beer!"