Here's What We Know About Stephen Colbert's 'Late Show' So Far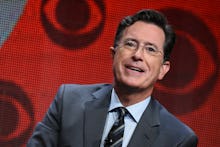 Now that Jon Stewart has moved on from The Daily Show, the vacuum in late night television feels all the more pronounced. Trevor Noah doesn't start until Sept. 28. John Oliver only airs on Sundays. Larry Wilmore, holding down Colbert's former 11:30 p.m. slot on Comedy Central, isn't pulling a significant audience. The network late night hosts, Jimmys Fallon and Kimmel and James Corden, consistently churn out viral videos but remain averse to greater gravitas. The last of them, Seth Meyers, is still figuring out what his show should be.
Right about now, we need a late night hero. Thank goodness Stephen Colbert is almost back.
The former Colbert Report host has been biding his time before taking over David Letterman's old desk at The Late Show with bizarre appearances all summer. The man is stir-crazy, eager to get back to entertaining. In fact, at Monday's CBS presentation on the Television Critics Association press tour, Colbert called his waiting process "dry-Trumping."
Colbert remains tight-lipped about the exact format of his Late Show, but he did divulge a few details to press. Here's what we know about the show so far, plus some other tidbits Colbert shared.
1. The "Stephen Colbert" character is gone.
On The Colbert Report, the host played a Bill O'Reilly-esque character, a caricature of a Republican talk personality. The Late Show isn't satire, so he'll be able to discard the persona. 
"I wore the character as lightly as a cap. I could dial it up and down as need be," he told members of the press at the TCA panel. "I'm looking forward to being sincerely interested in what they have to say without having to translate it through an idiot's mouth."
2. He hopes Donald Trump stays in the race until The Late Show premieres.
Colbert practically begged Trump to stay in the hunt for the Republican presidential nomination long enough for the new host to get his licks in. 
"Please stay healthy until I get on the air," he said during the panel. "Every night before I go to bed, I light a candle and pray that he stays in the race, and I also pray that no one puts that candle anywhere near his hair." Does Colbert think Trump actually has a shot? "Honestly, he could," he said.
3. His first guests will be George Clooney and Kendrick Lamar.
Lamar was Colbert's last musical guest on The Colbert Report, so it's fitting that he would return. As for Clooney, Colbert said he'll be choosing guests based on if they have something unique to say. "He's a brilliant actor and a great director, and he cares about the world," Colbert said of the Oscar winner.
4. Colbert got plenty of advice from Letterman.
Before Letterman retired, Colbert shadowed the former Late Show host for a day to get a sense of what the job is really like. He pelted questions at the late night legend all day. "I asked him, 'Do you mind me asking you these questions?' He said, 'No. Nobody ever asked me these questions before,'" Colbert said. "It was a very gracious way for him to say that only the person sitting in that chair would care about the answers." One of Letterman's suggestions has already had an impact: Colbert has moved the Late Show desk to the other side of the stage.
5. His band leader will be New Orleans' Jon Batiste.
Batiste, a jazz musician whose family inspired the HBO series Treme, got the gig because of his New Orleans roots. Colbert indicated his eagerness to play off Batiste's energy onstage. He's the latest high-profile bandleader in a late-night field that features Fred Armisen on Meyers' Late Night and the Roots on Fallon's Tonight Show.
6. His tribute to Jon Stewart on the last Daily Show was the highlight of his time there.
Colbert said his tribute to Stewart on the latter's final episode "might be my favorite thing I did on the show." The goal, he said, was to make Stewart as uncomfortable as possible. "I told producers, 'He's going flop around like a fish on the dock,'" he said, referring to Stewart's feints left and right as if to escape the praise. "I felt like a rodeo clown trying to keep him on the stage."
It won't be long: Fans eager to see what Colbert's put together won't have to wait much. The Late Show with Stephen Colbert debuts Sept. 8 on CBS.