Sarah Michelle Gellar Shares Heartfelt Robin Williams Tribute on One-Year Anniversary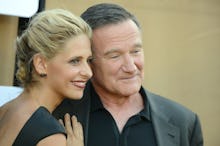 It's been one year since Robin Williams passed away, and yet his influence in Hollywood and culture in general continues to live on. 
Sarah Michelle Gellar, with whom Williams co-starred on The Crazy Ones, remembered the beloved actor by posting a tribute on her Instagram account on the anniversary of his death: a picture of the bench from 1997's Good Will Hunting, one of Williams' most acclaimed films, with flowers and one of Williams' character's quotes — "Sorry, guys, I went to see about a girl. Your move, chief."
The caption reads: 
"'To laugh often and much; to win the respect of the intelligent people and the affection of children; to earn the appreciation of honest critics and endure the betrayal of false friends; to appreciate beauty; to find the beauty in others; to leave the world a bit better wether by a healthy child, a garden patch or a redeemed social condition; to know that one life has breathed easier because you lived here. This is to have succeeded' #Emerson You succeeded RW #RobinWilliams"
She also posted on Twitter:
Williams starred in The Crazy Ones as Simon Roberts, Gellar's father in the show, and was nominated for a Critics' Choice Award for best actor in a comedy series.
Williams' work continued to present itself throughout the year, including in Night at the Museum: Secret of the Tomb, Merry Friggin' Christmas and Boulevard, which opened in select theaters July 10. His last voice-over work, in the animated film Absolutely Anything, premieres in the U.K. on Friday, with no U.S. release date set.
The Academy of Motion Picture Arts and Sciences also paid tribute to Williams during the 2015 Oscars' "In Memoriam" segment, spotlighting the actor's uncanny ability to make any movie he starred in turn into comedy gold. Williams took his own life before fans learned he was reportedly in the early stages of Parkinson's disease, in addition to ongoing experiences with depression and possibly other conditions. The anniversary of his death has led others to post their tributes to the actor, as well as bringing awareness to mental health issues.