This Old Woman on the Subway Just Put a Sexist Whippersnapper in His Place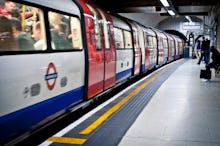 An elderly woman who reportedly stood up to a misogynistic bully on London public transit has officially become our new anti-slut shaming hero.
According to his Facebook post, Scott Sparrow was riding the Tube on Monday when he witnessed a classic example of sexist body-policing unfold before his eyes. Sparrow wrote that he watched a 50-something man on the train tell a woman wearing a "revealing dress" that she needed to "have some respect" when dressing herself. 
Luckily, there was an older woman standing nearby who wasn't having this dude's BS. She decided to call him out on his rude comment in front of the entire train. 
"She can wear or not wear whatever the fuck she likes," Sparrow quoted her saying. "Even if she was naked with a sign pointing to her fanny." (That's "vagina" for all you non-Brits.)
You can read the rest of the saga below. 
A legitimate issue: We've reached out to Sparrow for comment and will update if we hear back with more details about the incident (or about the "old soon to be dead lady" in question, wherever she might be.) But while the tone of Sparrow's post is fairly tongue-in-cheek, the issue of women being slut-shamed or harassed on public transportation is unfortunately a global phenomenon. 
Just last month, for instance, a woman in Paris uploaded to Facebook photos of a man who masturbated in front of her on the train. Earlier in the year, another woman wrote about going through the same thing in India. And in New York City, nearly two-thirds of women have reported experiencing sexual harassment on the subway. Even in London, where the tube incident took place, 10% of women have said they've been sexually harassed on the tube, but only one in 10 will go on to report it.  
The London harasser's comment about "self-respect" proves that even if a man doesn't go so far as to whip out his junk, offering sexist commentary on a stranger's choice of dress is sexist, rude, and borderline threatening. The audacity of a man telling a woman he doesn't know that she needs to "cover up" is a classic example of body policing and mansplaining, rooted in a culture that deems women's bodies "distracting" and demands they should be hidden from public view. 
But like our new train hero noted in the above Facebook post, what a woman chooses to wear is ultimately nobody else's bloody business — even if there is a sign directly pointing to her "fanny." (Or even if she is wearing nothing but a fanny pack, for that matter.) After all, it's her fanny, her choice.