Rick Perry May Be the First Establishment Casualty of the GOP's Ridiculous 2016 Primary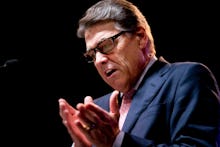 Former Texas Gov. Rick Perry may be a vocal opponent of raising the minimum wage, but this takes fiscal conservatism to a whole new level: The beleaguered Republican presidential candidate has stopped paying his campaign staff entirely. According to CBS News, staffers at Perry's national campaign headquarters in Austin, Texas, as well as in early voting states Iowa, New Hampshire and South Carolina, haven't been paid in weeks.
Perry's campaign manager released a statement confirming the "volunteer" nature of the Perry campaign. "As the campaign moves along, tough decisions have to be made in respect to both monetary- and time-related resources," said Jeff Miller, in an emailed statement. "Gov. Perry remains committed to competing in the early states and will continue to have a strong presence in Iowa, New Hampshire and South Carolina."
Oops. The anemic state of the campaign's finances — the campaign reported having a mere $883,913 on hand as of July 15, after raising just $1.14 million in the second quarter of the year — comes on the heels of a lackluster performance in the so-called "Happy Hour" debate on Aug. 6, spurring election watchers to officially stick a fork in Perry's second bid for the White House. The National Journal is calling it a "financial implosion." Chris Cillizza wonders, "Is this the end of Rick Perry?" Jonathan Chait's verdict at New York: "No White House for you, Rick Perry."
There are plenty of factors that have contributed to Perry's fundraising collapse: a crowded field of primary opponents, lingering wariness after his infamous "oops" moment in 2012, skepticism about the authenticity of his transformation from secessionist firebrand to relatively mainstream conservative. But were these weaknesses really enough to undermine his status as the former three-term governor of the nation's largest red state, a telegenic conservative with national name recognition?
Perry, it seems, is close to becoming the first casualty of the bizarre 2016 Republican primary, a cycle in which candidates who make perfect sense on paper are starved out by less experienced, less electable opponents. If polling and fundraising numbers are any indication, Perry isn't the only mainstream candidate losing the battle for America's attention and donations — and that's bad news for a Republican leadership that had hoped for a swift and painless primary season.
The GOP's 2016 D-List isn't your typical group of also-rans. Every election cycle has its D-List, the coterie of underdog strivers with little chance of inspiring enough support, political or monetary, to get a realistic shot at the nomination. But in this election cycle, the Republican primary field is filled to the brim with candidates who, if they might not be front-runners, would fill a solid back bench in any election year that obeyed Newton's Laws of Electoral Politics.
Sen. Lindsey Graham of South Carolina, for example, has been serving in Congress for more than three decades, earning a national profile on national security and defense-related issues. He's currently polling at less than 1% in the latest Public Policy Polling survey of Iowa Republicans. New Jersey Gov. Chris Christie is the boisterous, aggressive two-term governor who led his Northeastern state through a $36.8 billion hurricane. Post-debate polls show Christie tied for 10th place in New Hampshire, the state his presidential campaign hopes are pinned on. Sen. Rand Paul of Kentucky once seemed poised to lure his firebrand father's libertarian supporters to support a more mainstream candidate, but his troubled campaign faces a cash shortfall and a collapse in approval after a mediocre debate performance.
No candidate more perfectly crystallizes the hostility of the Republican primary electorate to traditional candidates than former Pennsylvania Sen. Rick Santorum, whose approval among likely Republican voters is now statistically nonexistent. Santorum came in second in the 2012 Republican primary race, and for a brief moment seemed poised to overtake Mitt Romney as the party's nominee. But despite an unspoken tradition in the Republican Party of nominating the previous primary's runner-up (Mitt Romney in 2012, John McCain in 2008), Santorum's already negligible support has fallen to zero according to a recent NBC News survey.
It's more than just Donald Trump's fault. It's easy to pin the failure of traditional candidates on the oxygen-sucking candidacy of a flashy celebrity billionaire fresh off of 14 seasons of reality television, but the Republican base's dissatisfaction with mainstream potential nominees extends beyond Trump's flavor-of-the-week appeal. The electorate's appetite for protest candidates has extended to the rest of the field, pushing all but the most resilient traditional candidates to the bottom of the ballot.
Who's hot on Trump's trail in the polls? A pair of equally unlikely front-runners. Dr. Ben Carson, a retired neurosurgeon who has never held elected office (but he has removed a person's brain, for what it's worth) is in second place in Iowa, polling at 14% according to the most recent CNN/ORC poll. Businesswoman Carly Fiorina, another political ingénue, is in a statistical dead heat for second place in the latest Rasmussen national poll. Combined, the three candidates control more than a third of the support of likely Republican voters — more than any single candidate has been able to muster. (Throw in Texas Sen. Ted Cruz, who holds elected office but is considered a legislative lightweight, and you end up with two out of every five Republicans supporting candidates from far outside the GOP's mainstream).
By any traditional measure, Trump, Carson and Fiorina are not viable nominees, but the trio of protest candidates have engaged the dissatisfaction of the Republican electorate in a way that the rest of the traditional field hasn't — or can't. With congressional approval in the mid-teens, the public just isn't as likely to view sitting senators or representatives with the same sort of awe that they hold a CEO, a surgeon or a reality TV star. When the basis of a party's front-runner is that he has never held elective office, what chance does two-term governor and son and brother of two former presidents Jeb Bush have to impress voters skeptical of the entire political process?
The GOP is at its lowest approval rating in decades, even among traditional Republican voters. A significant portion of the Republican Party's base has clearly lost faith in the party establishment, regardless of the party's platform (which the disaffected voters still largely agree with — hence the skyrocketing poll position of a man who called the Affordable Care Act the worst thing since slavery).
The rest of the candidates have attempted to pivot against the insurgent campaigns of Trump, Carson and Fiorina by upping their conservative rhetoric and doubling down on red-meat issues like abortion and national security, but they run the risk of boxing themselves into positions too unpalatable for a general election. Whoever the eventual nominee is, he or she needs to walk the thin line between Perry and Carson, Graham and Fiorina, Santorum and Trump: highlighting their frustration with "politics as usual," but without losing any chance of winning over moderates and disaffected liberals in the general election.