The Internet's Favorite Reformer Is Running for President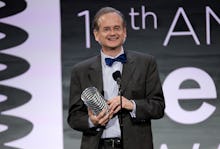 Progressives desperately wanted a former Harvard law professor to join the Democratic primary race, but with Massachusetts Sen. Elizabeth Warren sitting out 2016, they'll have to settle for a current faculty member.
On Tuesday morning, the Twitter-happy legal theorist Lawrence Lessig announced he is seriously considering a run for president:
On his website, Lessig says he will join the race if he can raise $1 million by Labor Day. 
"I've launched the exploratory committee for a run to be a 'referendum president,'" he writes. "I'd serve only as long as it took to pass fundamental reform — the Citizen Equality Act of 2017 — and then I'd resign."
The Citizens Equality Act, crafted by Lessig, is a reform package that would guarantee publicly-funded elections, an end to political gerrymandering and increased access to the polls by making Election Day a federal holiday. Its introduction follows the failed efforts of Lessig's "Mayday PAC," which was designed to raise money to support candidates who promised, paradoxically, to fight to end the era of super PACs. 
That effort, despite failing to buoy pro-reform candidates in 2014, raised Lessig's profile in the online activist community, where he has become the pied piper of an increasingly vocal grassroots movement agitating for campaign finance reform and better, more open access to the polls.
In a video laying out the rationale for his potential bid, Lessig takes aim at his potential primary opponents.
"Every major candidate in the Democratic primary for president has acknowledged this corruption," Lessig says. "So far every one of them puts it to one side."
Both Hillary Clinton and Sen. Bernie Sanders (I-Vt.) have both spoken about the issue, but in the context of broader policy platforms. Former Gov. Martin O'Malley, like Clinton and Sanders, has pledged to make overturning Citizens United, the Supreme Court decision that opened the door to billions of dollars in so-called "dark money," a top priority.
While the other candidates are splitting time on a number of issues, Lessig's protest pitch is, on its face, one-dimensional. But he argues in his announcement video that without a fundamental remaking of the campaign finance system, passing legislation to back other high-profile liberal priorities is impossible.
Lessig says the other candidates are underselling the issues, "as if without fixing the rigged system first we could get climate change legislation or sane limits on guns, as if without changing the way campaigns are funded first, we could reform Wall Street or take on the insurance companies."
Despite his concerns, Lessig is not opposed to joining forces with fellow Democrats. On his Tumblr, he even pitches a few of them on the potential for joining his ticket as an ascendant vice president — "#Lessig&Hillary or #Lessig&Bernie or #Lessig&Warren" are all on the table, he writes. "To support me is always to support me & someone else."
In the introduction video, Lessig compares his pitch to that of former Minnesota Sen. Eugene McCarthy, whose 1968 candidacy was launched with the singular promise to end the fighting in Vietnam. 
"In four months, McCarthy went from almost nothing in the polls to almost beating [incumbent president] Lyndon Johnson in the primary," Lessig says. "And the one issue that no one wanted to talk about became the one issue that no one could ignore."
Johnson would decline to pursue re-election in March 1968 and, with Sen. Bobby Kennedy's assassination two months later, McCarthy and then-Vice President Hubert Humphrey jumped to the front of the pack. Humphrey would eventually emerge with the nomination, as riot police beat and bloodied peaceful anti-war protesters outside the convention hall in Chicago. 
In November, Republican Richard Nixon defeated Humphrey in a landslide and the war in Vietnam continued until the spring of 1973. Lessig is ostensibly hoping for a better result.