iPhone 6S Release: Latest Updates, Features and Launch Date for Apple's Newest Reveal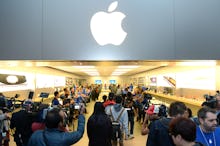 Based on the company's product announcement history, it's a good bet that the new iPhone will be unveiled during Apple's always secretive product launch, likely to be Sept. 8 or 9. But information and tech specs behind the most recent addition to the company's smartphone line are already being revealed. 
For one, reports are indicating "force touch" will be an added feature to what is presumably being called the iPhone 6S. Force touch, a feature already present on new Macbooks and the Apple watch, allows users to have a more efficient experience by providing shortcuts for each application's most common uses. With force touch, apps like Google Maps will have faster access to what users tend to use them for, like turn-by-turn navigation. 
The launch may also be one of the biggest leaps in camera quality unveiled in an iPhone update. The Telegraph reports the newest iPhone will have a 12 megapixel dual-lens camera to compete with DSLR quality images, as well as the ability to record in 1080p video at 60fps on the front-facing camera. 
9to5Mac reports the new iPhone may even have an entirely new logic board, allowing for the newest Apple smartphone to reach double the speed of LTE downloads thanks to a brand new Qualcomm LTE chip. The electronics website also says new chips in the iPhone will allow for longer battery life, as well as a faster A9 chip and a whole 2GB of RAM. 
The site posted a few leaked images of the phone's external casing, which appears to be slightly thicker than the iPhone 6. Features like the charging port and camera all appear to be in the same position, although some of the mounting points may have moved slightly.
Although many details are still kept under wraps, and likely will be until the September launch, it seems as though Apple is planning for the latest iPhone launch to be widely successful. 
Apple is asking suppliers to manufacture up to 90 million of the newest iPhone, according to the Wall Street Journal. When compared to the record-breaking production numbers from Apple's last launch (suppliers initially manufactured between 70 and 80 million for the iPhone 6), only one thing can be known for sure: Apple is sure to have some big secrets still up its sleeve for the newest iPhone set for release this September.