I Saw Weed Get Delivered by Drone and Experienced the Future of Getting High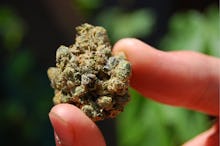 On Saturday afternoon, at Dolores Park in San Francisco, a Bay Area marijuana startup called Trees gathered a small group of friends to show off the weed delivery service of the future.
Trees CEO and co-founder Marshall Hayner, beer and vape pen in hand, briefly flew a drone rigged with a joint-delivery apparatus as his colleagues looked on. After receiving payment via Bitcoin, the drone dropped the joint, then crashed to the ground.
It wasn't quite the spectacle Hayner had promised, but the prospect of the new era of weed delivery was enough to elicit some applause. For residents of the San Francisco Bay, medical marijuana delivery via drone could actually happen — if only the Federal Aviation Administration would hurry up and legalize drone delivery. Yes, in California, medical marijuana is legal but its arrival via flying machine is not.
Trees wants to combine the convenience of ordering pizza online with the personal touch of a high-end marijuana dispensary to bring boxes of top-shelf medical-grade pot straight into the hands of discerning clients. The startup made a media splash last week as it unveiled plans to start delivering its products via drone. 
Its ad, a simple YouTube video of a drone delivering a box full of marijuana and associated paraphernalia to the feet of a man in a nondescript field, caught the eye of many excited customers, Hayner told Mic. But some customers may have been disappointed when real humans rang their doorbell.
The laws surrounding commercial drone delivery are still very restricted. According to the FAA's current regulations, the rules for hobbyists — to which commercial operations must also adhere — dictate that drones can only be operated during the daytime, cannot exceed a height of 500 feet and must stay within eyesight of the pilot. Additionally, a licensed pilot may only operate one drone at a time. Such restrictions affect small local operations like Trees and huge corporations like Amazon, which is developing a drone-delivery service of its own.
According to the FAA Modernization and Reform Act of 2012, the FAA should reveal new commercial regulations by June 2016. Hayner is confident that his will be among the first businesses to start delivering by drone. In the meantime, the 31-year-old is trying to build up a strong customer base, partly fueled by hype.
We decided to give Trees a shot. Max Sugarman, a 24-year-old resident of Oakland — and, full disclosure, a friend — uses medical marijuana to help treat his anxiety. He's been smoking pot every day for about five years.
The process of signing up, uploading photos of Sugarman's ID and medical marijuana cards, choosing a box and finalizing the order all took a little over 10 minutes. Trees accepts cash, cards and Bitcoin as payment. The estimated wait time for delivery was 45 minutes.
But 45 minutes later, Hayner called to say that he needed to fill out an invoice before the delivery could proceed. An hour after that, Hayner himself arrived at the door to deliver the "Beginner's Box" Sugarman ordered, complete with flowers, shatter (a purified extract of marijuana) and smoking accessories.
Despite the long wait, Sugarman said he would be interested in trying the service again. He described the quality of marijuana to be on par with the top shelf of other dispensaries he's tried.
Hayner said that the long wait was mostly due to unprecedented levels of customer demand and that driving around the Bay Area can be time-consuming.
Enter the drones. Imagine how much faster delivery could be if instead of driving through traffic, you could just fly over it.
Speed and convenience are the driving force for companies to press the FAA to refine regulations to make it more conducive for business to deliver via drone. At the forefront of the movement is Amazon, who excited many Prime members with the promise of drone deliveries in 2013. Theoretically, some orders could be delivered within 30 minutes, according to Amazon.
The service has been hampered by the FAA's restrictions. In April, the company sent a letter to the FAA pushing for leniency. But the FAA wants to ensure safety and manageability before signing off on commercial drone operations. Drones, especially if they are to be operated out of the pilot's line of sight, must be able to avoid collisions and return to base if they lose radio contact.
In other words, it's a whole level of complexity that needs to be properly managed to guarantee safety — and, if you don't care about that, the successful delivery of your purchases to your doorstep.
The FAA has granted some exemptions under Section 333 of 2012's FAA Modernization and Reform Act to some businesses that have demonstrated they have the proper infrastructure to engage in drone operations. Hayner believes Trees will be among the first to carry out deliveries once the FAA announces the new regulations.
And it's likely that the FAA will deliver. In July, the first ever FAA-sanctioned commercial drone delivery occurred in Virginia. The drone brought medical supplies to a clinic in an isolated corner of the state.
Until then, though, Trees' customers will have to settle for the same traffic-encumbered delivery system as everyone else.