5 Things You Didn't Know About N.W.A in Anticipation of 'Straight Outta Compton'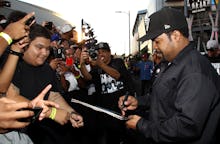 Niggaz With Attitude, one of the first major gangsta rap groups from Compton, California, and subject of the new film Straight Outta Compton, debuted in 1986 and quickly became one of the most controversial groups in hip-hop. 
Despite being barred from the mainstream radiosphere for their controversial first studio album, 1988's Straight Outta Compton (a name the film borrows), N.W.A rose to fame for provocative lyrics that exposed the struggles of being black in America, including life in the projects and a strongly worded hatred for the police. Yet there are still many unexposed layers to the group's story, some even their closest fans haven't explored. 
Before you see Straight Outta Compton, here are five things you might not know about the originators of gangsta rap:
The FBI helped N.W.A rise to fame: Had it not been for an infamous letter the FBI sent to the rappers accusing them of inciting violence and disrespect against police officers and other law enforcement officials, N.W.A may never have been deemed "the world's most dangerous group." 
The letter gained media attention from across the country, shining the national spotlight on gang violence, the glorification of drugs and guns and, of course, the notorious rap group behind it all. 
N.W.A almost fell apart so Ice Cube could receive an education: Dr. Dre, Ice Cube and Eazy-E gained a wide following shortly after the 1987 release of N.W.A. and the Posse (the group dropped that final period for later albums). But as their following began to grow and their raps became more advanced, Ice Cube's mother insisted he needed an education. So, Cube left California to spend a year in a drafting course at the Phoenix Institute of Technology. He reunited with the group in 1988 and helped it become a rap powerhouse. 
Straight Outta Compton wasn't funded with drug money, and Eazy-E probably wasn't a dealer: Despite a long-lived rumor, the claim that N.W.A's first rap album was produced entirely by drug money — which Eazy-E supposedly earned dealing — is most likely false. According to Fact, the album only cost $12,000 to complete, and was likely funded through the label, the same way most albums are released. 
According to Fact, the album wasn't funded with drug money because none of its members actually dealt drugs. The magazine includes a memoir excerpt from Eazy-E's friend, Ruthless Records co-founder Jerry Heller, saying, "I certainly never witnessed [Eazy-E] sell any coke." Heller adds the rapper certainly gave away plenty of weed but wasn't in the business of selling the drug for profit.
The rappers got together thanks to a swap meet in an abandoned movie theater: Before N.W.A was selling hundreds of thousands of albums, its members were attending jam-packed swap meets, flea market-like events where rappers and hip-hop fans exchange recorded tracks, beats and songs. Eazy-E used to go to swap meets at Roadium, an abandoned drive-in theater, to pick up new music.
It was there he begged Steve Yano, a high-profile swap meet vendor who sold records from a busy table, for Dre's contact information after buying some of his older tracks. After persistent bugging, Yano put Eazy in touch with Dre. Thanks to this one event, N.W.A formed, and the resulting Straight Outta Compton sold over three million records.
Straight Outta Compton has some secret samples most people don't hear at first: Anyone familiar with N.W.A's first album, Straight Outta Compton, is probably aware the group frequently sampled from James Brown's songs for their tracks. But N.W.A also included several other artists in its samples, including the Steve Miller Band, the Beastie Boys, Kool & The Gang, the Pointer Sisters and Marvin Gaye. Most notably, the group used samples from Public Enemy five separate times. 
Straight Outta Compton, a film based on the controversies and burgeoning success N.W.A experienced despite being one of the most polarizing music groups in hip-hop, is in theaters Friday.