Amnesty International Has Officially Recommended Decriminalizing Sex Work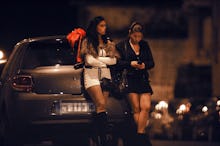 On Tuesday, the human rights organization Amnesty International voted at its International Council Meeting in Dublin to officially recommend decriminalizing sex work.
The vote shifted the organization's official policy on the position and marked a historic shift for the organization.
"Sex workers are one of the most marginalized groups in the world, who in most instances face constant risk of discrimination, violence and abuse," Salil Shetty, Amnesty's secretary general, said in a press statement. "Our global movement paved the way for adopting a policy for the protection of the human rights of sex workers, which will help shape Amnesty International's future work on this important issue." 
The group came to the decision after years of consultation with sex workers, foreign governments and international aid organizations, according to the statement.
The decision ensures that Amnesty will take a firm stand on the position.
"The drafting of the actual policy will happen in October," Margaret Huang, chief of staff for Amnesty International USA, told Mic. The Dublin ruling requires Amnesty to formulate some version of the policy at the next meeting of the group's international board of directors in October. "Certainly it can evolve a little bit more, but it has to be faithful to what was adopted today," she said. 
While the ruling will likely be hailed by sex workers and their advocates, the practical policy effects are less clear. Despite lending its global voice to the issue of sex workers, no countries are obligated to follow Amnesty's recommendations. While many governments have since come around to their 1977 position against the death penalty, many others, including the United States, continue to flout the organization's proscription.
Similarly strong stands the group has taken on reproductive and abortion rights remain unheeded by countries around the world. In the United States, much of the progress is often one Supreme Court justice's vote away from complete reversal. 
With the thought work now done, Amnesty's next goal will be convincing governments around the world to take heed. Given that sex work is currently illegal in a majority of the world's nations, it will be an uphill battle.