There's One Huge Problem With Google and Facebook's Plan to Wipe Out Child Porn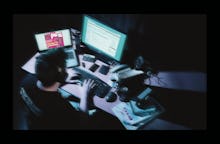 The appallingly rampant dissemination of child pornography across the Web's most popular platforms has a powerful new opponent.
On Monday, the UK-based charity Internet Watch Foundation, which aims to stop the spread of child sexual abuse images, launched a new initiative that intends to rid the Internet of these dark elements. Partnering with some of the world's biggest tech giants, as well as UK law enforcement, IWF will use a tool known as a hash list to track image-based child pornography. 
In short, a hash is like a digital fingerprint — once it's coded onto an image, it makes finding identical images easier. "There are billions of images on the Internet," IWF explained in a post detailing the project. "By creating a digital fingerprint of a single image, you can pluck it out, like finding a needle in a haystack."
IWF tech titan partners, which include Facebook, Google, Twitter, Microsoft and Yahoo, with more set to join the ranks soon, will be provided with access to IWF's hash list. They can then implement it into each of their services; if an image turns up that matches one of the known hashes, the company can remove or block the image. The hash list can also prevent hashed images from being uploaded in the first place.
The IWF will use images from a number of different sources, including both citizen and company reports, analyst findings and the law enforcement-run Child Abuse Image Database. 
The latter is an important development. According to the BBC, "For the first time, the UK government is sharing its own database of child abuse images with net charity the Internet Watch Foundation." Though they work together, groups like IWF typically operate separately from law enforcement agencies; they don't have the power to conduct investigations, for example.
As IWF spokeswoman Emma Hardy told the BBC, some of CAID's images, including those confiscated by police, may not have been uploaded to the Web; by providing them to IWF, they may prevent them from being uploaded at all. 
"The IWF Hash List could be a game-changer and really steps up the fight against child sexual abuse images online," said IWF CEO Susie Hargreave in a press release.
But is it enough? There's a huge caveat to IWF's initiative: It targets things on the so-called "open Web," which means platforms accessible to the public at large. As the Verge noted, however, it does not trawl through the "dark Web" — the bastion of the deep Web where illegal activity of all kinds, including the distribution of child pornography, flourishes.
This means, in essence, that there's a cadre of child pornography out there that the technology can't reach. Although the IWF's initiative is no doubt a step in the right direction — large social media platforms account for a shockingly large amount of child sexual abuse images — it also exists in a big way on the dark Web.
"There is a tremendous amount of child sexual abuse images in the open Web, but there's no question that the dark web and other platforms of the Internet also need attention," John Shehan, the National Center for Missing and Exploited Children's vice president of the Exploited Children Division, told Mic. (NCMEC has its own hash lists they use to stop the distribution of child pornography.) 
"As far as peer-to-peer or Tor, those types of areas, we don't get very many reports on those pieces, just because of the nature of the Internet, and making reports." NCMEC and other organizations like it rely on tips from industry players and concerned members of the public, who have an incentive to report such cases; members of the dark web, for the most part, do not share those incentives — in fact, it's often the opposite case.
"Anything that we can do to help reduce the amount that's online is a good thing," he added. "Whether it's the open Web versus the dark Web, whether you upload peer-to-peer or newsgroups or IRC, there are a lot of places where child sexual abuse images are traded online."
It's difficult to estimate what the breakdown is when it comes to child sexual abuse images on the dark web versus the open web. A 2014 IWF survey found that only 0.2% of URLs that contained child pornographic images were hosted on the dark web, but a German computer science researcher named Gareth Owen found that "more than 4 out of 5 Tor hidden services site visits were to online destinations with pedophilia materials," according to Wired.
The FBI, meanwhile, has been fighting hard against dark Web child pornography, and Shehan believes this is what needs to happen in order to stymie the dissemination of child pornography.
"There's going to be a lot of action that needs to take place by law enforcement into the dark web," Shehan told Mic. "[Actions like those of the IWF are] going to have a true impact, but we shouldn't try and think that's going to solve all the issues. There's a lot of other areas of the Internet that law enforcement has to focus on to try and reduce the proliferation [of child pornography]."
But ultimately, the NCEMC and IWF will add to the pile. Though it's not enough by itself, anything can help, according to Shehan — and the tech giants are more than happy to comply. 
"Nothing is more important to Facebook than the safety of the people that use our site and this material has absolutely no place on Facebook," a Facebook spokesman told Mic in an email. "We have zero tolerance for child pornography being uploaded onto Facebook and are extremely aggressive in preventing and removing child exploitative content."
Making platforms like Twitter and Google so-called hostile environments for pedophiles clears room for law enforcement agencies like the FBI to pursue criminals on the dark web.
"You have to start somewhere in this overall effort to eradicate this issue," Shehan told Mic. "If that's one area that you can tick in the box, that that's hostile, no one's going there, then you focus on what's the next spot: How do we focus on the dark web? What can be done?"