Vince Staples Pays Tribute to Ferguson Protesters With "Hands Up" Performance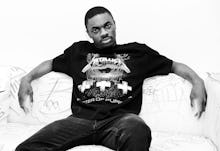 During a performance in New York on Monday night, up and coming California rapper Vince Staples gave a shoutout to protesters in Ferguson, Missouri, where tensions ran high following the one-year anniversary of the fatal shooting of black teen Michael Brown by a white police officer.
During his set at The Shop in Brooklyn, New York, Staples, 22, dedicated his song "Hands Up" to a well-known activist who was arrested this week while protesting in St. Louis, according to Entertainment Weekly. 
"This song is dedicated to my nigga Cornel West. He's locked up right now," Staples told the crowd, referring to the philosopher Cornel West, 62, who was arrested Monday during a protest at the federal courthouse in St. Louis. 
He then asked the crowd to raise their hands, a sign of surrender commonly associated with the nationwide #BlackLivesMatter movement. 
The meaning of "Hands Up": In the wake of Brown's death, activists wanting to show support with the people of Ferguson rallied around common mantras. "Hands up, don't shoot," became a popular phrase echoed at rallies and demonstrations across the country to symbolize police mistreatment of people of color. Witnesses said Brown was raising his arms in the air when he was fatally shot by former police officer Darren Wilson on Aug. 9, 2014. 
During his Monday night performance, Staples alluded to the recent spotlight on police brutality. "If you're in Brooklyn, New York, tonight and you do not fuck with the police, you gotta make some motherfucking noise," he told the Brooklyn crowd. 
Staples has previously said his song "Hands Up," which was released in September, had nothing to do with the unrest in Ferguson. He said he understood why people might have linked his song to the aftermath of the Brown shooting, but said that he didn't want to capitalize on the protests by claiming his song was about Ferguson. 
"Honestly... I think it's foul to make a song about someone who got murdered that you didn't know just to throw it on [Instagram] just to get money and not give [Brown's] momma nothing," Vince told BET.com. "I don't want to be a part of that, I think that's grimy."  
However, he seemed to change his tune during Monday night's show. 
Other artists offer solidarity. Staples wasn't the only artist to speak out about the recent protests in Ferguson surrounding the anniversary of Brown's death. 
Chicago rapper Common and Brooklyn hip-hop artist Talib Kweli both took to Twitter to show their support for Ferguson protesters.