Kid Cudi New Album 2015: Latest News on 'Speedin' Bullet to Heaven'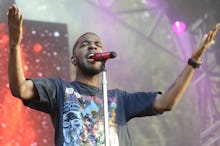 Update Dec. 4 1:05pm E.T Kid Cudi has released his new album. 
Before completing the Man on the Moon album trilogy, rapper Kid Cudi is sending fans a Speedin' Bullet to Heaven with his fifth studio album. 
As fans of Kid Cudi anxiously await the highly anticipated Man on the Moon III, the rapper teased a crowd during the 2015 Sundance Film Festival, saying they may just be getting a treat to hold them over. 
"I'm always making music. The beauty in that is that I have a lot of material. And I'm actually thinking that it would be good to release something in the meantime, before Man on the Moon III comes out," the "Pursuit of Happiness" rapper told the crowd, according to fan site Dat New Cudi.
"Another Kid Cudi album, it's just kind of along the lines of what I did with Indicud or Satellite Flight, which it's just it's own standalone thing but still a Kid Cudi album. The Man on the Moon III album is something that's gonna take some time but I know the fans are gonna be patient and I really appreciate that, guys, thank you for your patience. But Man on the Moon: III is coming, there may be an album before that just to tide you over."
So far, Cudi has released just one single from the album, titled "Confused." The song feels similar to most of the rapper's other prominent work: a timeless track with clear rock, hip-hop and R&B influences. 
Although most of the details surrounding the new project aren't yet revealed, Cudi has taken to his Twitter page in recent months to drop some announcements. For one, this may be the most personal album the rapper has produced to date. Also, he doesn't plan on having anyone else featured on Speedin' Bullet to Heaven; the album will be entirely composed by Cudi, who says he and his one producer ("Plain Pat") are the sole creators of the upcoming project.
Just days after he released his single "Confused" from the latest album, the rapper dropped an additional, shorter song on his Soundcloud page. However, it turns out the second track, "JFKPSA" is not set to be on Speedin' Bullet To Heaven.
While it seems clear that Cudi will continue to tease his fans up until the full release of his newest album, there has been a major trend in the music industry to surprise fans with digitally dropped albums that have absolutely no preceding marketing, advertising or early releases of any singles. Luckily, Cudi sent a message to his fans that this wouldn't be the case for Speedin' Bullet To Heaven.