The Producers Who Brought Us Lorde Have Found the Next Great Pop Star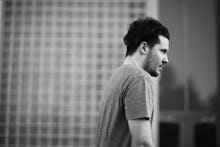 When Jarryd James walked onstage at New York City's Bowery Ballroom on Monday, he looked vaguely like a hipster in the headlights. Wide-eyed and dressed in SoHo grunge attire, he looked visibly nervous, but excited. His first few notes were a little pinched, but once he settled into the groove laid down by Lorde's drummer, Ben Barter, his distinctive falsetto came through and the nerves fell away.
Monday night was Jarryd James' second show in the United States, and his first in New York, but James is no young upstart. The blue-eyed R&B star has already made an impact on the Australian charts. His song "Do You Remember," co-written with Joel Little, the producer behind Lorde's breakout hit "Royals," reached No. 2 on the Australian Recording Industry Association charts in April. It also became the No. 1 song on the Australian iTunes Singles chart, the Shazam Charts and Australian radio. Since generating that buzz independently, he has signed to Interscope. The label is now trying to break him stateside. 
Judging by his show on Monday, that will happen.
The most honest songwriter in pop. James only has four songs to his name on Soundcloud, but at his live show on Monday night, he shared about four more. Each song demonstrates a deep talent, and they veer sharply away from the boisterous, overproduced pop that tends to dominate radio stations. His lyrics are unpretentious and understated, though they're lent an intriguing depth by the soft, cooing harmonies he cloaks them in. In person, he's similarly soft-spoken, unrelentingly thoughtful and almost shy. 
"It's all about what a song can make you feel," he said while describing his music to Mic. "Earlier, my piano player came in and put on a Dashboard Confessional song, and immediately I was transported to a different time and place. That's so powerful. If you want to get away from the here and now, you can put a song on and do that. I want to write music that does that. I think that's really beautiful."
This is what initially drew James to songwriting. Before James started songwriting full-time, he was working for the Department for Child Safety in Australia, looking after children who had been abandoned or abused by their parents. He worked with 15- and 16-year-old boys who had suffered tremendous trauma in their lives and were more interested in doing drugs, stealing and fighting than in doing anything else, James described. 
"I think the music helped soothe those stresses," James told Mic. 
His first single, "Do You Remember," has a definite therapeutic quality. It's a graceful ode to lost love, with creeping strings that have a subtly ominous quality that announces itself fully in the song's chorus. The sparse, R&B-tinged production is reminiscent of Lorde's "Royals," which is fitting since it was cowritten and coproduced by the same mind that brought us Lorde's Love Club EP, Joel Little.
James first conversed with Little during an Australasian Performing Right Association Awards ceremony, where James was performing an interpretation of Matt Corby's "Resolution," which was up for Song of the Year. After James' performance, Little's manager invited James to tour with a band called Broods, which Little has also produced for. Shortly thereafter, he started writing with the hit-maker himself. The two engaged in the process organically.
"We started writing causally, no agenda, just because we both liked the feel of it," James told Mic. "It's important for me for the vibe to be right. He's really good at setting it up for me so I can do what I'm good at, and steps in when he should do his thing. He's a brilliant engineer."
James' first EP, containing "Do You Remember" and "Give Me Something," will be released later this year, in anticipation of his first full length album, 31. Similar to Adele's 21, the album refers to James' age, but has a deeper significance in that it's also an homage to his father, who died when James was very young. He never got to know him but he heard he was a great musician. "I think that's where I got my musical streak from," he said.
"I recently needed a copy of his death certificate, and I noticed that he was 30 when he passed away," James told Mic. "And this year I'm putting out this album, and if I make it through this year alive, I will have outlived my father when I turn 31. I thought it was the right thing."
The album is full of meditations. "A lot of my writing process is very subconscious," he told Mic. "So I'm certain that there's a lot of that stuff that comes out. I write based on emotions and how I'm feeling when I switch my brain off."
It did seem he managed to shut off his conscious thoughts during his performance. He sang with his eyes closed most of the night, or stared over the packed crowd with the glaze of a monk in meditation. 
Throughout the set, he kept mentioning how blown away he was by the number of people in the audience. "Thank you all for coming out. I just want you all to have a chill time. Enjoy your drinks. Thank you so much," he told the crowd between every few songs. But he didn't have to tell them. The excitement that was there in the room will only grow.