Donald Trump Just Let Us Know What He Really Thinks of Bernie Sanders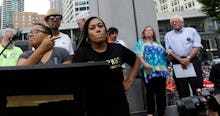 Republican primary frontrunner Donald Trump mocked Sen. Bernie Sanders (I-Vt.) for being "weak" after the upstart Democratic presidential candidate ceded the stage to protesters from the Black Lives Matter movement at a rally in Seattle this weekend.
"He's getting the biggest crowds and I'm getting the biggest crowds — we're the two getting the crowds, but believe me, that's not going to happen to Trump," the boisterous billionaire said during a press conference Tuesday evening in Birch Run, Michigan. 
"That showed such weakness. The way he was taken away by two young women — the microphone! — they just took the whole place over," Trump said. "I felt badly for him, but it showed that he's weak."
On Saturday, two female protesters interrupted and took over the podium at a Sanders "Social Security Works" gathering in Seattle's Westlake Park. Like he did on July 18, when protesters shut down his Netroots Nation appearance, Sanders eventually became frustrated and walked off. 
Trump swore on Tuesday that, faced with protesters in a similar scenario, he would not give up the stage. 
"I don't know if I'll do the fighting myself or other people will," he said. "But that was a disgrace."
Despite the minor uproar during the afternoon rally, Sanders drew more than 15,000 supporters to an event that night at the University of Washington's Hec Edmunson Pavilion. 
On Sunday, 28,000 more packed the Moda Center in Portland, Ore., and on Monday, an estimated 27,500 people turned out to hear Sanders' call for a "political revolution" at the Los Angeles Memorial Sports Arena in California.
The Sanders campaign did not immediately respond to requests for comment.