Tinder Had a Meltdown on Twitter — And Showed the Embarrassing Truth About Hookup Culture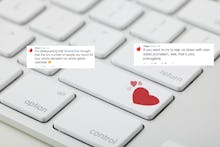 The Tinder thinkpiece has become something of an Internet staple over the past few years, with everyone from the Huffington Post to BuzzFeed to the New York Times blaming the app for the rise of millennial "hookup culture."
Last week, the hookup app got the Vanity Fair treatment when writer Nancy Jo Sales took a deep dive into the IRL hookup habits of New York City singles. She found that many of Tinder's frequent users are also its worst critics, finding that the app's endless casual sex options can leave users feeling empty or mistreated.
Sales' takeaway wasn't exactly new, as people have been criticizing Tinder on these grounds for years. But unlike previous Tinder criticism, the Vanity Fair piece caught the eye of the company itself. In fact, Tinder hated the piece so much that the company voiced its discontent on Twitter Tuesday night, where things quickly spiraled into an epic meltdown:
Almost immediately, snarky tweets from Tinder users started pouring in. While Tinder's assertion that a handful of Tinder users are swiping for "relationships, friends and a shit ton of marriages" might, in fact, be accurate, in the wake of Tinder's meltdown people turned to Twitter to make the following two points: 1) That's not how the app is most commonly used, and 2) Tinder makes it a whole lot easier for fuckboys to be fuckboys.
In light of Tinder's well-documented history of creepiness and misogyny — again, a reflection of "hookup culture" —  female users quickly called out the app for behaving in exactly the same way its male users do when confronted with rejection. 
While most of us assumed that Tinder's tweetstorm was off-the-cuff, that may not be the case: According to AdWeek, a BuzzFeed reporter was tipped off about the rant by a Tinder PR representative before Tuesday night, implying that it might have been planned. 
But assuming for the moment that the rant wasn't a PR stunt, judging by Tinder's impassioned response, it's clear that the company is finally fed up with its reputation as a destination for casual hookups. 
In the past, the company has taken great pains to argue that Tinder isn't solely intended for casual sex, saying that only a small percentage of its user base are using the app to find sex. (Even though everyone and their mother knows that's not the case, as Sales' article demonstrated.) 
Tinder's insistence that the app is for people looking for "meaningful connections" seems to at least in part reflect a discomfort with talking openly about casual sex, which seems to be reflective of a larger cultural trend. For all the talk about "hookup culture" and the rise of casual sex, it seems the straight dating world is still holding onto some pretty old-fashioned attitudes about sex and dating. (For the sake of comparison, you'd probably never see Grindr, Tinder's infinitely raunchier gay cousin, ranting on Twitter about how it's not a hookup app, or citing statistics that people are using it to meet friends and spouses.)
For its part, Tinder responded to Mic's request for comment with the following statement:
"We have a passionate team that truly believes in Tinder. While reading the recent Vanity Fair article about today's dating culture, we were saddened to see that the article didn't touch upon the positive experiences that the majority of our users encounter daily. Our intention was to highlight the many statistics and amazing stories that are sometimes left unpublished, and, in doing so, we overreacted."
But Sales' article wasn't meant to be a piece of reporting on why Tinder is so awesome. It was meant to be a piece of reporting on the reality of how some young people are experiencing casual sex and dating in 2015. And thanks in no small part to the arrogant, entitled, sexist attitudes of Tinder users (and, as we've now learned, of Tinder itself), that reality can sometimes be the absolute worst.
Aug. 12, 2015, 12:32 p.m.: This story has been updated.