Tinder Tried To Make Me A Dating Success Story. Here's Why I Hate That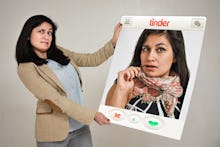 On Tuesday night, Tinder had a social media meltdown in response to Vanity Fair's recent article about how hookup apps are killing dating culture. 
During its Twitter tantrum, Tinder attempted to use me as an example of how the app liberates people around the world, citing the example of my meeting another lesbian on Tinder while working as a journalist in Pakistan. 
I eventually turned my Pakistan story into a one-woman show, Noman's Land, which I'm currently performing at the Fringe Festival in Edinburgh, Scotland, and it was picked up by some media outlets.
Tinder clearly noticed. By citing my story (as well those of alleged users in China and North Korea) on Twitter, Tinder was trying to make the case that it's much more than a hookup app. In fact, it claimed, it's a catalyst for positive social change, especially in countries where casual dating (or, in my case, same-sex dating) is frowned upon.
But that interpretation is a fundamental misunderstanding of my story — and of Tinder. As someone who's written extensively about my experience using Tinder as a gay woman in Pakistan, I would argue that dating apps like Tinder actually reinforce the secretive, highly stigmatized nature of being gay in Pakistan. 
Tinder didn't make it OK for me to be out and proud in Pakistan. Tinder suggested on Twitter that it liberates people in politically repressive countries and cultures that might otherwise make it difficult for young people to find their desired relationships. 
But Tinder didn't exactly liberate my repressed gay self in Pakistan. In fact, had Tinder actually read my story, they would have discovered the truth was the exact opposite. 
Because it's a platform that by its very nature makes it quick and easy to find discreet sexual encounters, Tinder only buttressed the existing political system in Pakistan, which suppresses gay interactions and pushes gay people to operate their romantic lives under the radar — thereby reinforcing the homophobic status quo.
Further, any "liberating" potential for an app like Tinder is limited in a place like Pakistan. Anyone using the app there is invariably a member of the elite class, because if you have Tinder on your smartphone, you're probably a) cosmopolitan enough to know what Tinder is, and b) wealthy enough to own a smartphone in the first place. 
While approximately 80% of Pakistan's population has cell phones, only 7% to 10% of the population has smartphones, Tech in Asia reports. These apps are far from tools of democracy; instead, they're catering to a small, niche demographic, which most likely already has greater social freedom than the millions of people living in poverty around them.
In some cases, it could also be dangerous. It's quite risky and a little bit scary to use mobile dating apps as a gay person in a place where that isn't allowed, in part because you have no guarantee the person you're meeting doesn't have sinister intentions. 
In Pakistan, your sexual orientation is incredibly private information. You have to be very careful about sharing it, because it's not beyond the realm of possibility that someone might want to use that information against you (something I witnessed firsthand on multiple occasions). 
When I met gay people in Pakistan, either via mutual connections or old-fashioned gaydar, some degree of trust was immediately established: We both knew we were gay, so we had an equal amount of dirt on each other, so to speak. But if you're meeting someone who professes to be gay on Tinder, there is no such mutual assurance.
The "Tinder generation" is bullshit. In its Vanity Fair-inspired rant, Tinder argued that it has built a "Tinder Generation" structured around creating meaningful connections between millennials instead of facilitating casual hookups. 
But despite what Tinder tweeted, what really went down between myself and the girl I slept with in Pakistan was exactly as Vanity Fair suggested: Tinder helped to create a synthetic and immediate "dating environment" that allowed us to conveniently use each other for sex. There was nothing meaningful or romantic about our meeting. In fact, it was no different than meeting someone at a bar and taking them home for a one-night stand. 
That's not quite the narrative Tinder wants to promote with its silly #GenerationTinder hashtag, but it's the truth nonetheless — particularly in repressive countries. At the end of the day, apps like Tinder and the way they're used by people in Pakistan are more a reflection of existing social boundaries than a tool for breaking them.
But although I wouldn't argue Tinder is aiding the gay rights movement in Pakistan, I don't necessarily think it's hurting us, either. After all, as my experience proves, it's certainly helping some of us get laid.