Tinder Just Threw a Hissy Fit at a Woman Who Rejected It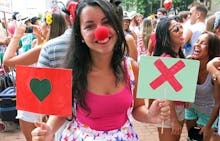 Tindersplaining. It's a thing, you guys.
After Vanity Fair published a piece about Tinder's negative impact on hookup culture, the platform decided to go after Nancy Jo Sales, the journalist who wrote it, in the most Tinder-esque possible way: ignoring her critiques and condescendingly telling her how to do her job.
In a slew of indignant tweets, the dating platform's social media account aggressively defended itself against criticism, ranting that it wasn't a hookup app (as the Vanity Fair piece claimed), but a vehicle for positive social change, like the Mother Theresa of dating apps, or something. In addition to calling Sales "biased" because her piece didn't talk about how Tinder "creates social accountability," Tinder also misrepresented the work of another female reporter, Mic's Natasha Noman, who recently performed a play about her experience dating as a lesbian in Pakistan.
Apparently, Tinder isn't only an expert on Tinder. It's also an expert on journalism.
Tinder has a history of aggressive behavior against women. Instead of maturely addressing the points made in Sales' piece, Tinder's social media account (which I imagine, for the purpose of this piece, is run by a guy who in cargo shorts who keeps his Oakley sunglasses on indoors) personally attacked her for daring to express an opinion.
Indeed, Tinder's response to the Vanity Fair piece is similar to the well-documented way men respond to being romantically rejected by women on the app. The popular Instagram account ByeFelipe is full of cringe-worthy examples of this phenomenon.
Such blatant misogyny has also been exhibited by members of the company itself. "Desperate loser", "whore" and "disease" were all terms Tinder co-founder Justin Mateen used to describe Whitney Wolfe, Tinder's sole female co-founder and his ex-girlfriend, before he essentially pushed her out of the company, prompting her to sue the company for sexual harassment and discrimination.  According to court documents, Mateen told Wolfe that if she wanted to hold on to her job, she needed to be "watched" to get along with him.
Seems like Tinder as a whole is really bad at rejection. 
That said, Tinder's tweetstorm made some valid points. Sure, Sales should have reached out to Tinder for comment, and it's somewhat odd that Vanity Fair wouldn't have vetted the process. It's also certainly possible that a number of people are using Tinder to find friendships and relationships instead of using it to hook up, as the company claimed. 
But just like male users on the platform who react to a polite "no, thank you" with threats and vile insults, Tinder's apoplectic, 30+-tweet response to the article was vastly disproportionate to the damage caused by the piece itself. Tinder's reputation wasn't damaged by the Vanity Fair article, but its ego sure was.
When Mic reached out for comment, a Tinder spokesperson said: 
"We have a passionate team that truly believes in Tinder. While reading the recent Vanity Fair article about today's dating culture, we were saddened to see that the article didn't touch upon the positive experiences that the majority of our users encounter daily. Our intention was to highlight the many statistics and amazing stories that are sometimes left unpublished, and, in doing so, we overreacted."
In other words, Tinder is sorry it broke your favorite purple polka dot mug during your fight at brunch in front of your mom and all her friends, but hey — you kinda started it. 
Tinder's female users should take note. If women weren't already turned off by the awful messages they receive on the app, maybe the company's sophomoric handling of the slightest criticism will be enough to convince women to leave Tinder for good. Thankfully, the world is full of other online dating options for those who take issue with Tinder's treatment of women: For instance, after being treated like garbage at Tinder, Wolfe founded her own dating app, Bumble, which aims to reduce sexist messages and give female users the upper hand.
The online dating marketplace is crowded. New apps are quickly cropping up, which means more competition for the coveted female user. Hopefully, platforms like Tinder, which view users' safety and well-being as an afterthought, will come in last, and companies that prioritize the female experience will conquer the market. Despite the bro bubble that is Silicon Valley, women have no shortage of non-Tinder dating options.
After Tinder's online meltdown, female users may be the ones whispering, "Bye, Felipe."