Kim Kardashian Just Got Slammed by the FDA for a "Misleading" Drug Endorsement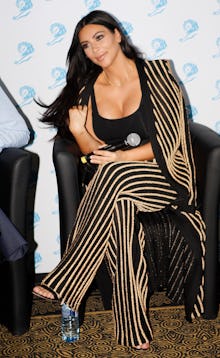 Kim Kardashian has found herself in hot water this week after the Food and Drug Administration accused her of using her Instagram account to promote "misleading" claims about a medication.
In July, Kardashian posted a photo of herself holding a bottle of Diclegis, a drug she claimed helped her "feel a lot better" during bouts of pregnancy-related morning sickness. She added, "Most importantly, it's been studied and there was no increased risk to the baby." The FDA says Kardashian's post included no risk information about the drug and thus qualified as bogus advertising.
In a letter to Kardashian, the FDA warned it found Kardashian's violations "concerning from a public health perspective." 
"By omitting the risks associated with Diclegis, the social media post misleadingly fails to provide material information about the consequences that may result from the use of the drug," the agency wrote, "and suggests that it is safer than has been demonstrated."
The post has since been removed. 
The FDA requested the manufacturer of the drug, Duchesnay, properly educate the same audience they misled about Diclegis, suggesting Kardashian will have to send a followup Instagram.
According to the Verge, Diclegis has not been studied in women with certain health conditions and side effects include "severe drowsiness."
The post was "false or misleading because it talks about efficacy claims ... without communicating any risk information," FDA representative Sarah Peddicord told Mic. "Failure to correct the violation may result in FDA regulatory action."
Celebrity drug endorsements are nothing new. In 2004, the San Francisco Chronicle reported "a number of actors talking about their illnesses in television interviews had not revealed that they were being paid to do so by drug manufacturers, which had briefed them with scripts and talking points," including household names like Kathleen Turner and Bob Dole. In 2012, CBS reported celebrity chef Paula Deen became a paid advocate for Type 2 diabetes drug Victoza soon after publicly revealing she had the condition.
h/t the Verge