New Poll Shows Bernie Sanders Leading in New Hampshire for the First Time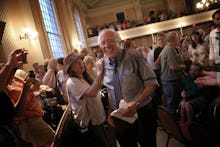 For the first time this primary season, Sen. Bernie Sanders (I-Vt.) has overtaken Hillary Clinton in early-voting New Hampshire, racing out to a seven-point advantage in a Franklin Pierce University/Boston Herald poll released early Tuesday.
Sanders leads Clinton 44% to 37%, with Vice President Joe Biden, who is thought to be considering a bid, chalking up 9%, according to a survey of 442 likely Democratic voters. The survey provides a snapshot of Sanders' remarkable rise. In March, Clinton led with 44% to Sanders' 8%, meaning the new results represent a 43-point swing in only five months.
Not only does Sanders garner more support, according to the poll, but his backers are also more enthusiastic about his run. Forty-four percent of voters say they are "excited about his candidacy," while only 35% said the same of Clinton.
The poll also suggests there is a significant gender gap. Sanders leads among male voters with 57% to Clinton's 27%. With women, Clinton has maintained a double-digit lead, 44% to 34%. 
New Hampshire has been good to the Clintons for more than two decades. Former President Bill Clinton's strong showing in the Granite State in 1992 saved his sinking campaign. In 2008, Hillary Clinton's doomed bid for the Democratic nomination got a momentary boost from a comeback victory over eventual winner, then-Sen. Barack Obama.
But Sanders poses a unique challenge. New Hampshire is almost home turf for the senator from neighboring Vermont, which he has represented in the House of Representatives and now the Senate since 1991. He rose to prominence as the barnstorming mayor of Burlington, Vermont's largest city.
The Clinton campaign has been careful, at least publicly, not to dismiss Sanders' potential, especially in New Hampshire.
"We are worried about him, sure," Clinton communications director Jenn Palmieri, an Obama campaign veteran, told MSNBC in early July. "He will be a serious force for the campaign, and I don't think that will diminish,"
Still, 65% of respondents believe Clinton would ultimately win the nomination and 86% said they could see themselves casting a ballot for her, enthusiastically or not, at some point in the future.