Lola Kirke, Star of 'Mistress America,' Is Hollywood's New Favorite Little Sister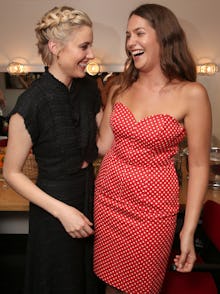 If Hollywood has an official Cool Big Sister, it's Greta Gerwig. The actress and writer has worked on three of director Noah Baumbach's films — 2010's Greenberg, 2013's Frances Ha and this weekend's new release Mistress America. In that most recent project, Gerwig plays Brooke, a free spirit with big dreams who takes her to-be stepsister, Tracy, under her wing. Brooke lives a vivid, colorful life, and becomes Tracy's inspiration.
But if Gerwig is the big sister, then Tracy herself, Lola Kirke, is about to be Hollywood's ultimate little sister.
On a hot day in late July, Kirke is in hour six of a full day of interviews. "I don't even know what time it is," she tells Mic as she sits down to answer another round of questions. Junkets are exhausting and often quite dull — Cara Delevingne can tell you that — but Kirke's still upbeat, practically shining through the haze. Her gaze is kind, but firm. She's focused on the task at hand, even when charming press. She has to be: This won't be her last junket.
The British-American actress is still fairly new to this. While she has about a half-dozen film credits to her name, including last year's hit Gone Girl, they're mostly small roles. That allows Mistress America's marketing team to bill her as "Introducing" in trailers.
For an introduction, Mistress America is an impressive one. It follows Tracy during her first year of college in New York as she bonds with her to-be sister, writing about her successes and, more prominently, her failures. The relationships between the characters are funny, yes, but also incredibly thorny.
"Everybody's kind of fucked up," Kirke told Mic. "They're not bad people; no one is straight-up likable, but I like everyone in the movie."
They also speak in the signature style Gerwig and Baumbach have developed together. It's staccato and almost too fast, constantly answering questions three responses later. Brooke and Tracy each have their own mental track, only occasionally paying attention to the other lane. 
"It is very similar to songwriting in a lot of ways. Their words are really precious to them, and not precious in an annoying way," Kirke said of the writers' style. "I think they really understand behavior, and have their own take on it. It's not simply reality — it's a heightened reality."
Such surreality could only be sold by actors with real chemistry and a relationship to root for. As near-sisters, Kirke and Gerwig explore something that feels far deeper than a romantic relationship.
"I definitely have friends that I'm in love with, but not in a romantic way. Their minds are so brilliant to me, and the way I feel around them is so specific," Kirke said. "It's just so cool to get to explore the subtler realms of female friendship."
Being the little sister isn't new to Kirke. She's the younger sibling of Girls star Jemima Kirke and music artist Domino Kirke, a fact that hasn't escaped the media's attention. But as a person "drawn to powerful women," her greatest influences haven't always been familial.
"I've had many Brookes," she told Mic, like a 25-year-old friend Kirke had when she was 15. "She was flawed, and I knew she was flawed," she said, much like Brooke. One memory Kirke shared of the friend was of seeing the 2005 documentary Grizzly Man:
"She rolled the fattest joint I've ever seen, and we were walking down the street — I didn't really smoke that much pot — and she got a call, and said, 'I have to take this.' She handed me this joint, and I'm walking down east Houston Street in the middle of the afternoon, so terrified. The only thing I can do is smoke the entire thing and then sit through Grizzly Man. She's crying because she loves the movie so much, and I hated it."
"So my life has been peppered with experiences like that," Kirke laughed. "I think I've been able to find my own power in that."
While Mistress America is her first major film role, it certainly won't be her last: Kirke's already got three big-screen jobs lined up. And in 2016, she'll appear in the second season of the Amazon series in which she stars, Mozart in the Jungle. It's a star-studded series, featuring greats of stage and screen like Bernadette Peters and Gael García Bernal, about a young woman making her way into the New York classical music scene. 
Yet despite being the younger actor once again, her character Hailey serves as the series' emotional core. "I think Hailey is going to come into her own a little bit more," Kirke said of Hailey in the second season, "as I was so excited for her to do."
With the release of Mistress America this weekend, Kirke will continue to grow into her own as well. Her persona both on-screen and off is refreshingly real. She may be the little sister now, but it won't be long until she's a Brooke in her own right.