Bernie Sanders vs. Hillary Clinton 2016: Where Candidates Stand With Black Americans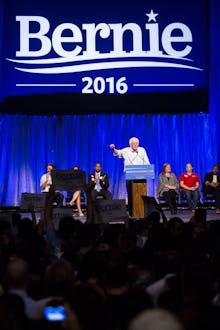 Sen. Bernie Sanders (I-Vt.) might be surging in a new round of New Hampshire polls, but when it comes to African-Americans, Democratic presidential candidate Hillary Clinton has been the clear favorite. 
According to Gallup polling published Monday, the former secretary of state's favorability rating among black Americans was 80%, a 57-point margin over Sanders, whose approval among the group was 23%.
The survey concluded Clinton was "solidly positioned with blacks" and fared "better among black voters than any other Democratic or Republican candidate." According to Gallup, Clinton's name recognition likely played a role in her higher favorability, as did her serving in the Cabinet of the country's first black president. 
Sanders' home state is 95% white.
Other Democratic candidates polled lower with black voters, although a majority of black people surveyed were not familiar with candidates other than Clinton. Former Maryland Gov. Martin O'Malley had a favorability rating of 17% among black Americans. Former Virginia Sen. Jim Webb had an 11% rating, and former Rhode Island Gov. Lincoln Chafee came in at 8%, according to Gallup. 
Compared to their Democratic counterparts, Republican candidates have a less favorable image among black Americans. 
"Several governors or former governors in the race, including [former Florida Gov. Jeb] Bush, [Wisconsin Gov. Scott] Walker and [former Texas Gov. Rick] Perry, have made efforts to limit or eliminate early voting and make the voting process more difficult in general — moves that are widely seen as a rebuff to blacks who don't usually vote for GOP candidates," Gallup reported. 
Black Lives Matter and the Democratic primaries. Race and black activism have played prominent roles in the 2016 Democratic primaries so far in light of the rise of the  Black Lives Matter movement, the two-year-old movement that picked up momentum after last year's string of police killings of black Americans. 
Both Sanders and O'Malley have had their campaign events disrupted by activists aligned with the group. On Tuesday, Clinton met with members of #BlackLivesMatter after the group was barred from the former first lady's forum in New Hampshire, according to CNN. 
"I feel like what we got out of the meeting was to actually press her in a very real way — probably in a way that she hasn't been pressed in a long time about not only her role as a presidential candidate, but her role as first lady, senator and secretary of state," Julius Jones, the head of Black Lives Matter Worcester (Massachusetts), told CNN. 
Last month, Sanders made his first major attempt to court black voters in Louisiana, the Washington Post reported. His audience included civil rights leaders, and he talked about incarceration rates and unemployment among young blacks. 
"To my mind, it makes eminently more sense to invest in jobs and education, rather than jails and incarceration," Sanders told the crowd, according to the Washington Post. "That is an issue that we have in common, do we not?"