Model With Down Syndrome, Madeline Stuart, Is Getting Her Shot at Fashion Week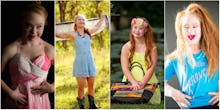 The modeling world's latest darling is headed to New York Fashion Week.
Madeline Stuart, the Australian 18-year-old with Down syndrome who's been winning fashion fans all year, will get her first shot at the runway next month when she walks for FTL Moda, a group that acts as a platform for designers and models through runway shows. This season's show, happening on Sept. 13 in New York, is in partnership with the Christopher & Dana Reeve Foundation, with the "mission to push boundaries and challenge disability stereotypes on runways and beyond."
FTL Moda has been doing its part. In February, they staged a fashion show in New York that featured models with physical disabilities, such as those who use wheelchairs or prosthetic limbs.
Stuart brings a different kind of visibility for a disability that isn't quite as apparent to the naked eye. Stigmas and misconceptions about Down syndrome are still prevalent, despite the fact that it's the most common chromosomal disorder, affects one in every 700 babies and increased in prevalence by about 30% in just 25 years, according to the Centers for Disease Control and Prevention.
"I hope through modelling I can change [society's] view of people with Disabilities, exposure is creating awareness, acceptance and inclusion," Stuart writes on her Facebook page. Her mother, Rosanne, told BuzzFeed, "I think it is time people realized that people with Down syndrome can be sexy and beautiful and should be celebrated."
Ironically, fashion might be one place that needs that message. The industry isn't known for being inclusive on all fronts, particularly when it comes to racial and ethnic diversity, and the models who typically grab our attention tend to fit one bill: tall, willowy and white. 
But slowly, individual models and designers have been chipping away at long-standing beauty standards to question our gender norms, body expectations and assumptions about what's "beautiful." Those standards may still reign supreme on most runways, but individuals whose stories go viral can get the world to look and listen.
"The world was ready," Stuart's mother told Cosmopolitan this week. "The world wants to be inclusive, it just hasn't had anyone on such a platform that they were able to do it easily."
We'll probably keep obsessing over the likes of models Karlie Kloss and Gigi Hadid. But there's no reason a model like Stuart can't inspire us from a runway too.
h/t Cosmopolitan