'Star Wars: The Force Awakens' Unveils New Photos and Details on the Story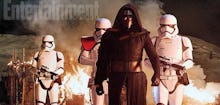 The seventh installment of the Star Wars film series premieres in theaters Dec. 18, but newly released photos from Star Wars: The Force Awakens are giving fans plenty to look forward to for the next four months.
In a new cover story, Entertainment Weekly has unveiled 12 new images from the film, revealing insights into characters and plot developments, as well as fresh looks at some of the stars of the film. 
Fans are introduced to the villains, including General Hux (played by Domhnall Gleeson), Kylo Ren (Adam Driver), and Captain Phasma (Gwendoline Christie), as well as some of the heroes, such as Finn (John Boyega), Rey (Daisy Ridley) and, of course, America's favorite droids: R2-D2 and C-3PO. 
According to Entertainment Weekly, since the end of The Return of the Jedi, the Empire has transformed into a powerful group called the First Order, and the opposing forces have joined together to become known as the Resistance. While Luke Skywalker's fate will play an important role throughout the film's plot development, it remains unclear how prominent a role the Skywalker twins will play in the seventh Star Wars. 
However, Luke's former lightsaber will surely be brought into play, as it's being used in The Force Awakens by Princess Leia. She apparently now owns the famous weapon, which was once owned by her father, Darth Vader, and was lost by her brother, Skywalker, in The Empire Strikes Back.
One of the heroes, Rey (Ridley), is a human scavenger who lives on the desert world called Jakku. She is seen here cutting free the astromech droid BB-8 from another scavenger's net while traveling through the region. ScreenRant reports the droid Rey carries may carry an important artifact that factors as an important plot element throughout the film.
In one of the photos, Rey and Finn (Boyega) are seen running from the First Order on Jakku. Finn, a runaway who originally was a stormtrooper, teams up with Rey in the film after apparently crash landing on Jakku and crossing paths with her.
Adam Driver plays a badass villain as Star Wars: The Force Awakens' leading antagonist, Kylo Ren. He can be seen in these newly released photos burning down an entire village with his stormtroopers in one of the ultimate #SquadGoals pictures from a movie set to date.
Disney announced the release of a new Star Wars trilogy in 2012 after acquiring Lucasfilm. Lucasfilm announced the franchise would not only see another trilogy series, but two spinoff films as well, Esquire reports. The Force Awakens, directed by J.J Abrams, is set for release Dec. 18.